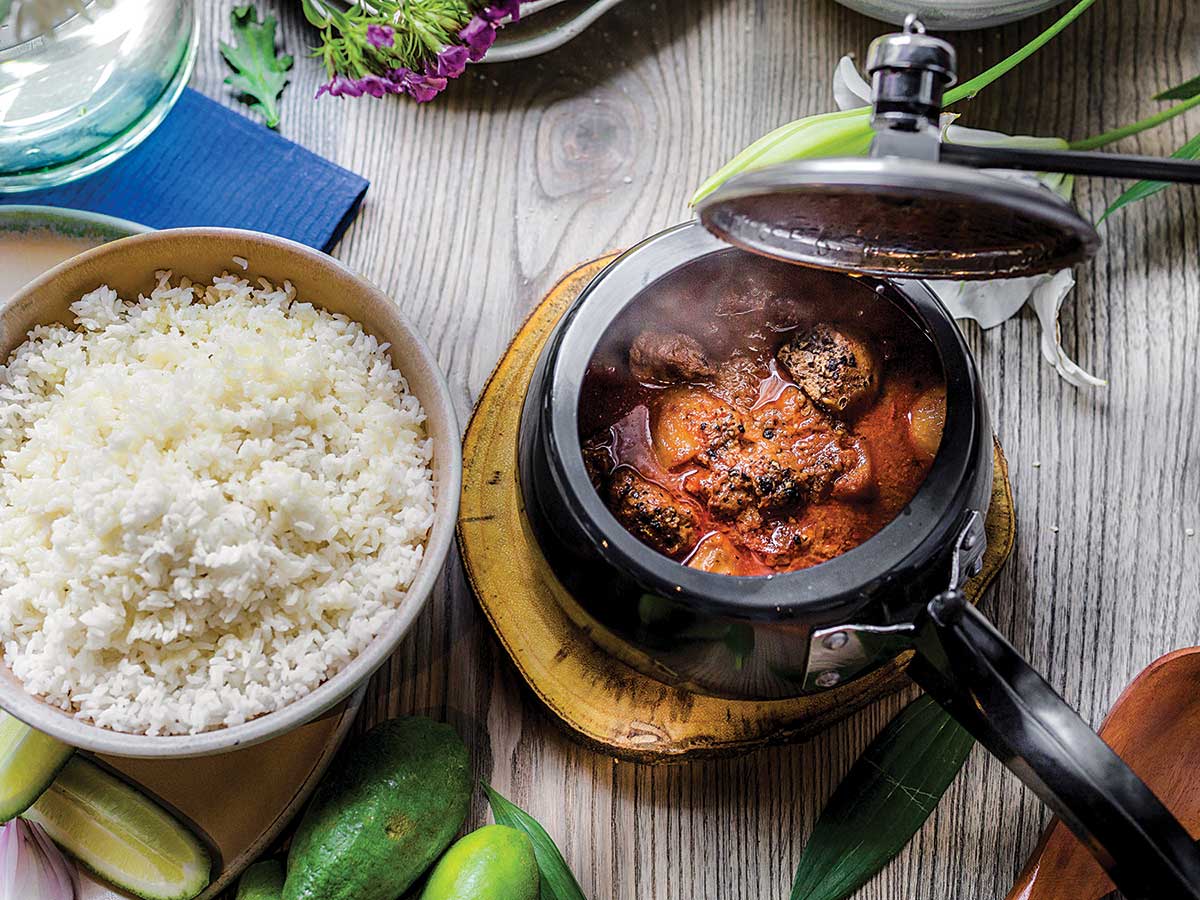 Culture
Why Mumbai Chef Amninder Sandhu is Cooking with Fire
She is bringing India's ancient cooking methods into her kitchen
While traveling through the wetlands of northeast India's Majuli island, chef Amninder Sandhu and the team from Arth, her Mumbai restaurant, sat down for a meal with members of the local Mishing tribe. They were presented with a thali, a traditional round platter, loaded with local delicacies: banana flowers, fish curry, fiddlehead ferns. "There were also these really tiny potatoes," Sandhu recalls. "We thought they were chickpeas at first, because they're that small. But I put one in my mouth and realized, these are the potatoes I grew up eating as a child!" The guti aloo, or "pearl potatoes" as Sandhu calls them, are native to India's Assam state, and are just one of the dozens of regional ingredients she has brought back to her kitchen at Arth restaurant in Mumbai.
Sandhu spend 15 years traveling the country collecting ingredients while also adopting the traditional cooking methods of the people she met. In the Khonoma village in northeast India's Nagaland, she collected Szechuan peppercorn leaves, which she uses to marinate fish before chargrilling. In the backwaters of Alleppey in southern India, she encountered kodampuli, a pungent-smelling fruit that's dried and smoked, which she uses in fish curry. Sandhu has also been gathering family recipes: some willingly passed along, and others so closely held that she's had to decode their mysteries on her own. At her last job, as chef-de-cuisine at Mumbai's Taj Land End, Sandhu met Rajkumari Sarvesh Kaur, granddaughter of Maharaja Bhupinder Singh, late ruler of India's Patiala state. She says Kaur happily shared her family's heirloom recipes, walking Sandhu through each of them, and typically ending with a note like, "this was cooked on charcoal in a heavy-bottom lagan [a traditional Indian copper cooking pot], and will taste different from anything you've ever tried."
She was so taken with these ancient practices that when she opened Arth in 2017—an otherwise posh and elegantly styled restaurant—she was determined to adhere to slow-cooking either on charcoal or wood, a stripped-down way of maximizing flavors and textures that was also conducive to celebrating India's diverse culinary heritage. It's now home to the city's first and only modern gas-free kitchen.
Sandhu and her staff taught themselves to cook using a custom sandpit and coal- and wood-fired sigri and angeethi ovens, ancient Indian stoves that house and employ smoldering charcoal—all of which they tucked into the kitchen's stainless steel counters.
"The company fabricating our kitchen had never designed anything like this before." It took the team a few weeks to figure out how to gauge the right cooking temperatures and times. ("There was nothing as challenging as cooking a whole goat to perfection in a sandpit!" she says.) But Sandhu's seasonal menu is now a favorite among visitors from Bollywood stars to international epicureans. Her dishes pull together ingredients from across India's vast regions, like the "Lobster Tale," a lobster curry popular in South India paired with a dosa made from black rice from Manipur in the northeast, and Dum Aloo, a traditional curry from the Kashmir Valley in which she incorporates those pearl potatoes from Assam.
Despite the intense learning curve, Sandhu is thrilled with her latest endeavor. "If I were to cook now with just gas," she says, "it would be a really boring kitchen."