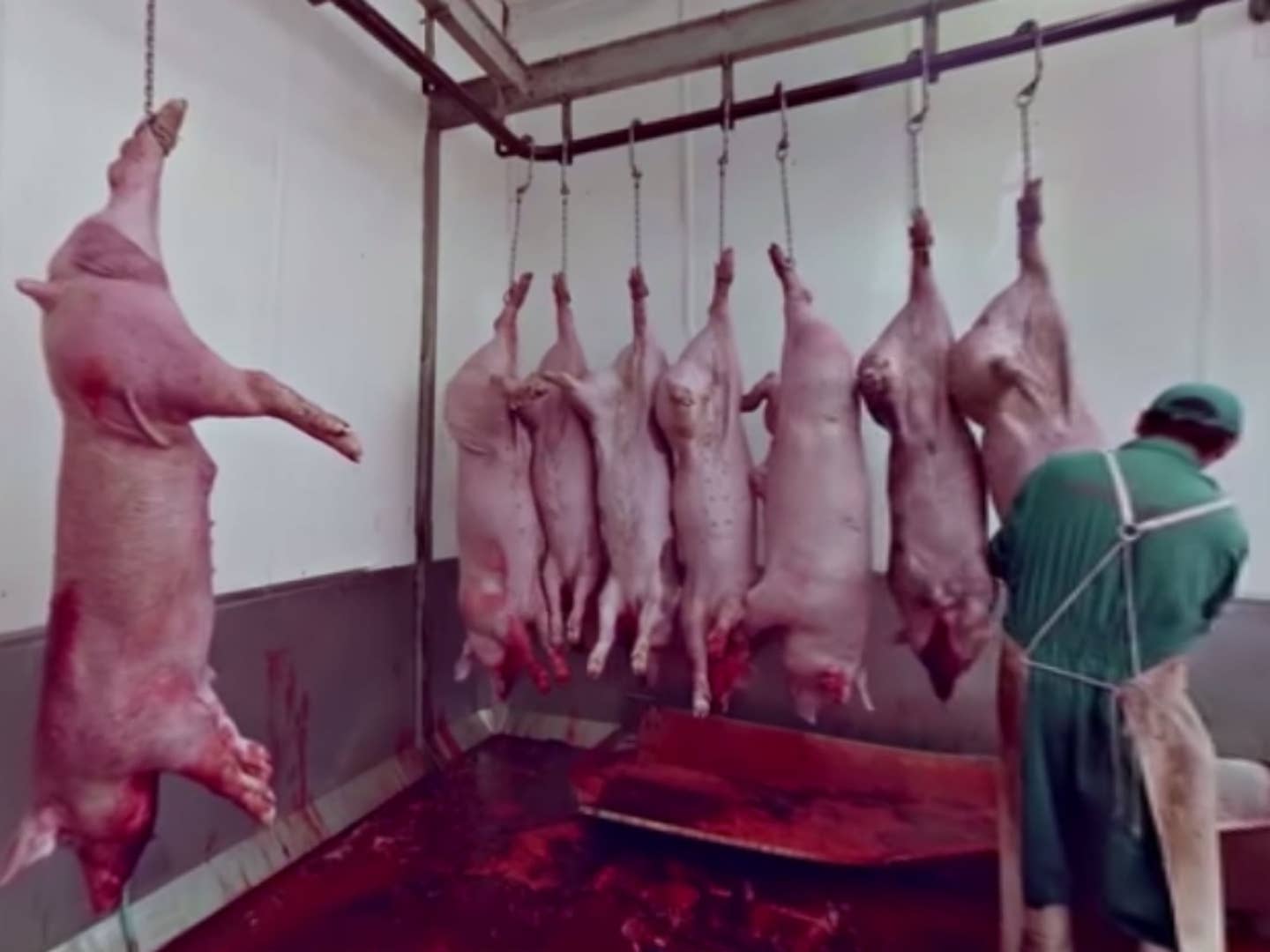 Culture
Follow Animal Welfare Groups Into the Slaughterhouse With Virtual Reality
It's everything Upton Sinclair ever dreamed of, and more
Animal welfare activists have long sought to shed light on the inhumane, everyday practices they claim to be happening in the meat-processing industry. Now, groups such as Animal Equality and Direct Action Everywhere have upgraded from dark, low-quality photos of animal-shaped silhouettes to 360 degree, immersive virtual reality videos of animal abuse in livestock farms around the world.
As reported by the New York Times and Grubstreet, animal rights advocacy groups are fawning over the new technology, which allows a viewer to virtually step into various sites of animal mistreatments, such as large-scale chicken farms, pig and cow slaughterhouses, and even South Korean dogmeat factories. Animal Equality's VR platform, named iAnimal, has celebrities narrate the gory footage of cattle and pigs being crammed into tiny cages before being exsanguinated, or being drained of blood until death. "I had always wished I could bring people into the facilities with me, so they could see them with their own eyes," Jose Valle, a founder of Animal Equality, told the Times. "The experience is just not the same with traditional video." One of the iAnimal videos, according to the group, has been viewed a whopping 63 million times by people across the globe.
For animal welfare activists, the ability to look around the inside of these farms is invaluable, as it effectively dispels the idea that many of the videos shot by animal rights groups are staged or taken out of context. As Wayne Hsiung, a founder of Direct Action Everywhere, explains, "The meat industry always complains that we're using selective footage, narrow vantage points and editing to make things seem worse. But with VR, you're seeing exactly what we saw and hearing exactly what we heard."
Despite the technological advances and seeming transparency, representatives from Circle Four Farms—a location recently featured in a Direct Action Everywhere video titled Operation Deathstar that showcases the mistreatment of pigs—vehemently deny the factuality of the videos, however damning they appear to be. Kiera Lombardo, a spokeswoman for Circle Four's parent company Smithfield Foods, told the Times that the video in question was full of "blatant inaccuracies," and that the clip "appears to be highly edited and even staged, [in] an attempt to leverage a new technology to manufacture an animal care issue where one does not exist." According to Lombardo, Barry N. Pittman, Utah's state veterinarian, and Jennifer Woods, a livestock handling expert, both inspected the farm and found no instances of animal mistreatment.
While the videos are unsettling and, at times, gruesome, the technology needed to view the clips in 360 degree VR isn't as widespread as the animal rights groups who employ it would like it to be. But as more and more advocacy groups pick up this hi-tech tool, we might all be watching these bloody videos in the not-too-distant future.