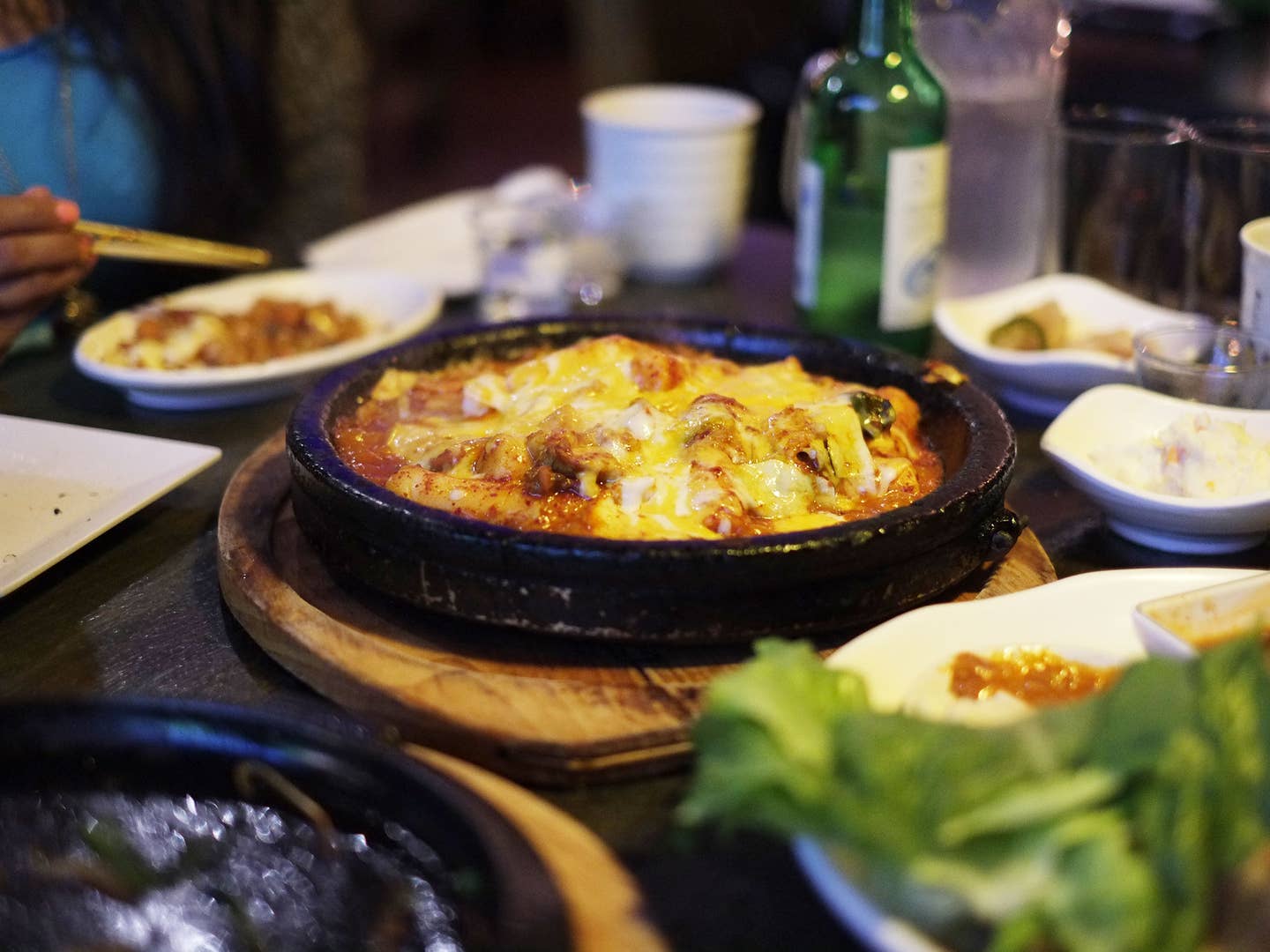 Travel
The Legend of New York's Korean Nachos
The mother-daughter duo of Arang make a weird and wonderful twist on a Korean classic
In Asia, drinking-food (and drinking properly with food) is an art form. So welcome to Asian Drinking Food Adventures, where Dan Holzman, chef-owner of The Meatball Shop, and Matt Rodbard, author of the Koreatown cookbook, seek out the best food from bars, izakayas, pojangmachas, and then some.
"We make your ddukbokki dreams come true," reads the slogan written on the Arang website. And, true to the claim, many a midnight reverie has been passed over a plate of the classic Korean rice cake dish that has made this mother-daughter-run restaurant famous.
Ddukbokki (also spelled teokbokki due to a non-standard Romanization of the Korean language) is a popular street food in Korea. Finger-sized rice cakes, called dduk, are boiled until pillowy, like rice gnocchi, and stir-fried with a crimson sauce of gochujang (fermented soybean and chile pepper paste) gochugaru (dried chile flakes), soy sauce, fish cakes and anchovy stock. In Seoul, you'll find streets lined with a dozen carts selling the spicy chewy snack, vendors exchanging their steaming chattels for a couple thousand won (around 2 bucks). Ddukbokki is also a foundational menu item of the Korean pocha or pojangmacha—tented streetside restaurants that are packed after the bars let out (which, in Korea, is basically all hours of the day and night).
In America, the pocha heads indoors and is tweaked for a more Western appeal. That is, dishes like golden fried chicken drums and jalapeno poppers are served side-by-side with traditional Korean cooking like jogaetang, clams cooked in a clear broth of anchovies and peppers, and grilled octopus.
Sue Song and her daughter Sunny Lim opened the original Arang on 32nd Street in the heart of Manhattan's Koreatown in 2006. The restaurant was a neighborhood staple for 10 years before a rent hike forced them to re-locate to Queens. It was at that 2nd floor sanctuary—which for years was popular with the post-noribang crowd and played a soundtrack heavy on the Chromeo and "Freedom 90"—that the world was first introduced to their version of ddukbokki, closer to Korean nachos or spicy lasagna then the traditional dish. Same spongy dduk, same crimson sauce. But add layers of stir-fried pork belly, white onions, Korean peppers, chopped kimchi and a top it off with a pound of cheese (a blend of Cheddar and mozzarella).
It's an incredible dish. The fatty pork, squishy rice cakes, spicy kimchi, and gooey cheese come together to form a product greater than the sum of its parts; a molten gut-bomb worthy of the heartburn and regret that inevitably ensues.
As Sunny tells it, over a decade ago, her mother went on a trip to Korea and witnessed cheese being added to the top of rice cakes. Unconvinced that a mere sprinkling of Cheddar was the answer, she added pork and vegetables into the mix. "A few food bloggers stopped by and things got a little crazy," Sunny says, explaining how the dish went viral. There's a couple from Staten Island who make a monthly pilgrimage, and Lim credits the dish's popularity to both craveability, and how dope the thing looks on Instagram. "It's huge with the Snake People."
On a recent Friday night, after a disappointing encounter with paneer pakora in Jackson Heights, our crew of six found ourselves craving the Korean nachos. Even via Uber, the ride to the heavily Korean section of Flushing takes some time, but we were overdue a visit to see Sue and Sunny at their new digs. And of course those nachos remained top of mind.
The new Arang is now two levels and slightly more spacious than the original. On this night it's about half full on the bottom floor and empty in the bar area upstairs where you can request karaoke if you feel like singing "Freedom 90" yourself. Business can be tough as the new kid on the block. Luckily for Arang their following, like us, is willing to travel. Almost before we're seated bottles of soju and Hite arrive. I order jokbal (a massive plate of soy-braised pig's feet) and jalapeno poppers which arive along with a blurr of banchan as the tradition calls.
I ask Sunny about why she supposes the harmony of drinking and eating in Asia is so profound. "You first have to understand that in Korea, those people are going HAM all the time" she says, using the Kanye West emphatic. "In America, the bars are very interactive. Everybody is standing around and meeting each other. Korea is more about the conversation. Catching up and hanging out. And with tons and tons of food."
As we wrap our meal, we are left to finish off the last sips of soju and wonder what the future holds for the mother and daughter restaurateurs working hard, day and night, on the outskirts of the city.
I call Sunny a few months later and learn that business is picking up. "We've tweaked a few dishes here and there and things are looking good," she says, noting an uptick in sales. Her most popular dish remains the ddukbokki with sautéed pork and cheese. "People came from Bensonhurst the other week."