Recipes
Korean Rice Cakes (Ddukbokki) with Pork Belly and Cheddar
Serves

serves 6-8

Cook

45 minutes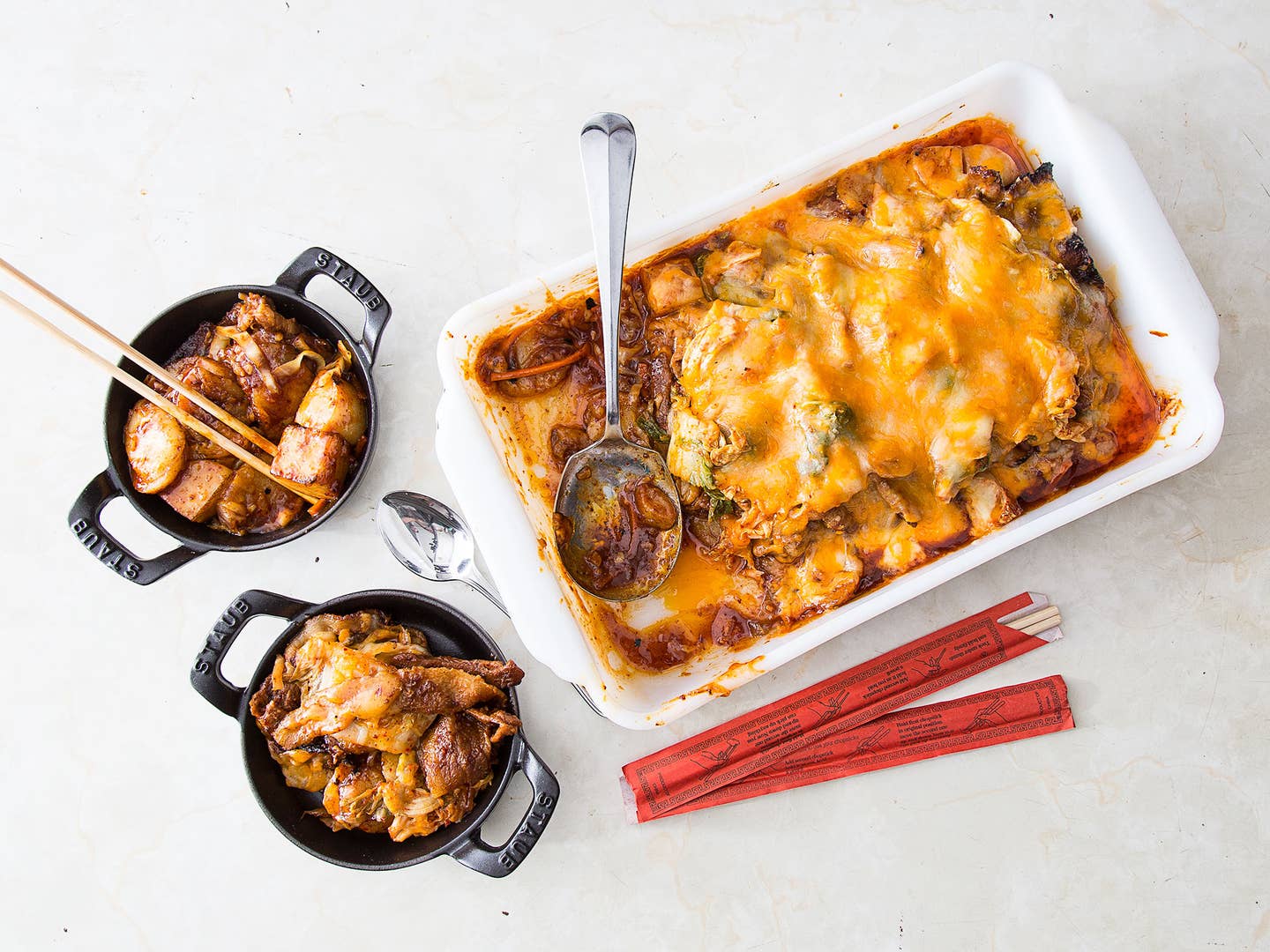 Arang, a Korean restaurant in New York, takes a Korean classic—ddukbokki, or spicy rice cakes—and adds on an oh-so-American layer of melted cheddar for a stroke of fusion brilliance that recalls nachos as much as Korean cooking. This recipe is based on co-owner Sunny Lim's notes, plus recipes in Matt Rodbard's Koreatown: A Cookbook.
Ingredients
1⁄2 cup dashi
3 tbsp. gochujang (Korean red chile sauce)
3 tbsp. rice syrup or light corn syrup
1 tbsp. Korean red pepper flakes
1 tbsp. soy sauce
1 tbsp. mirin
1 tbsp. sugar
2 cloves garlic, minced
2 cups frozen rice cakes, soaked and refrigerated overnight
2 tbsp. vegetable oil
3⁄4 cup kamaboko (Japanese fish cakes), cut into 1-inch pieces
1⁄2 cup julienned carrots
1⁄2 cup thinly sliced green cabbage
1⁄2 cup thinly sliced yellow onions
2 cups Spicy Sauteed Pork Belly
1 cup roughly chopped kimchi
2 cups shredded mozzarella
2 cups shredded mild cheddar cheese
Instructions
Step 1
Heat the oven to 400°. In a medium bowl, whisk the dashi with the gochujang, rice syrup, pepper flakes, soy sauce, mirin, sugar, and garlic. Drain the rice cakes and dry well with paper towels.
Step 2
In a large wok, heat the oil over medium-high until lightly smoking. Add the rice cakes and cook, flipping once, until golden, about 2 minutes. Add fish cakes, carrots, cabbage, and onions and cook until the fish cakes are heated through and the vegetables are soft, about 3 minutes. Pour the dashi sauce over the rice cakes and simmer until the sauce thickens, about 3 minutes.
Step 3
Transfer the rice cakes to a 9-by-13-inch baking dish and spread into an even layer. Arrange the pork belly over the rice cakes, pouring the juices over top, then spread the kimchi over the pork belly and top with the shredded mozzarella and cheddar. Bake until cheese is melted and sauce is bubbling, 10 to 12 minutes. Transfer the baking dish to a rack and serve while hot.