Enter to Win an iPad Mini
and SAVEUR's complete ebook library!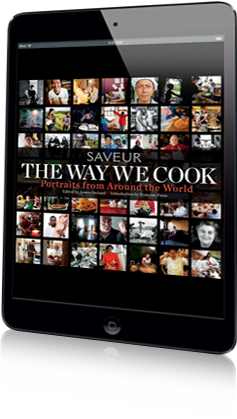 Over the course of SAVEUR's nearly twenty years of publication, we've sent dozens of talented photographers around the world, resulting in thousands of stunning images of home cooks and chefs alike as they create the dishes that define themselves and their cultures. With The Way We Cook, we've distilled those images down to our most inspiring, illuminating, and arresting portraits of the rituals and gatherings that make cooking (and eating) such an essential part of our lives. In partnership with Weldon Owen we're celebrating the publication of The Way We Cook with a sweepstakes that brings the color and vibrance of the book right into your home.
The Prize Includes:
An iPad Mini (Wi-Fi enabled)
A $25 iTunes gift card, to purchase SAVEUR's five iBookstore ebooks: Easy Asian, Easy Mexican, 50 Best Cookies, Easy Italian, and The Way We Cook
A copy of The Way We Cook, autographed by SAVEUR editor-in-chief James Oseland
A subscription to SAVEUR for yourself, and one for a friend