Recipe Comix: Shove It In A Mug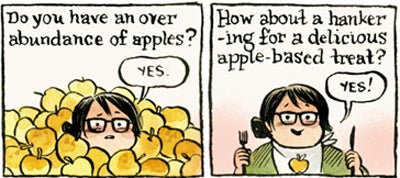 "Draw us a recipe." That's the brief we sent to a slew of our favorite comic artists earlier this year; each week, we're thrilled to present what they sent back. They're fantastic, beautiful, hilarious, thoughtful, informative, and often all of the above — and they prove that a recipe doesn't just have to be words on paper. Check out all the comics published so far in the archive »
This week's comic is the second Recipe Comix foray of Laura Park. Previously, she explained to us how to Slap It in a Pan (where "it" is garlic, greens, and an egg); today, a similarly straightforward take on cooking: Shove It in a Mug, a sweet, hearty apple-based pie-in-a-cup that's perfect for a chilly winter evening — just keep an eye out for pie-stealing hobos.
See previous weeks' Recipe Comix in the archive »
Laura Park is a cartoonist and illustrator living in Chicago. She is the author of the minicomics series_Do Not Disturb My Waking Dream, and her work has appeared in the_Best American Comics.