Recipe Comix: Donuts and Coffee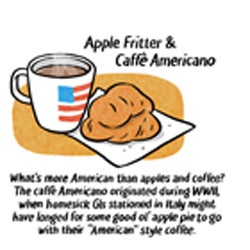 "Draw us a recipe." That's the brief we sent to a slew of our favorite comic artists; each week, we're thrilled to present what they sent back. The resulting works of art are fantastic, beautiful, hilarious, thoughtful, informative, and often all of the above — and they prove that a recipe doesn't just have to be words on paper.
In today's recipe comic, cartoonist and illustrator Lucy Knisley (who previously shared with us her love for orange-colored foods as well as her Tanzanian Travelogue) paired up with writer Erin Meister to pay tribute to the addictively delicious pairing of warm sweet donuts and fresh hot coffee, whether it's a nibble of French Crullers that complements a sip of dark-roasted coffee, the double-decadence of jelly donuts with cappucino, or the sweet-bitter play of glazed donuts with a shot of espresso.
See previous weeks' Recipe Comix in the archive »
_Lucy Knisley is a New York-based illustrator, comic artist, author, and occasional puppeteer and food and travel writer. She is the author of the drawn journal French Milk; you can learn more about her at LucyKnisley.com.__