Recipe Comix: Malaka's Mom's Pampango Fruit Salad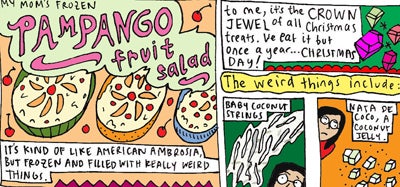 "Draw us a recipe." That's the brief we sent to a slew of our favorite comic artists earlier this year; each week, we're thrilled to present what they sent back. They're fantastic, beautiful, hilarious, thoughtful, informative, and often all of the above — and they prove that a recipe doesn't just have to be words on paper. Check out all the comics published so far in the archive »
This week's Christmas-themed comic comes from Malaka Gharib, who you might recall from her previous Recipe Comix installation on the perfect Egyptian breakfast. Here, she lays out everything you'll need to make a frozen Pampango fruit salad, part of the traditional Filipino Christmas spread. It's great at a holiday party, and even better eaten — covertly — straight out of the freezer in the garage.
See previous weeks' Recipe Comix in the archive »
Malaka Gharib is the founder of The Runcible Spoon, a D.C.-based zine. You can find her online at MalakaGharib.com.