Recipe Comix: Peanut Butter and Jelly, the Ultimate Meat Alternative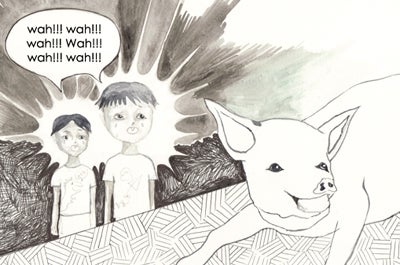 "Draw us a recipe." That's the brief we sent to a slew of our favorite comic artists earlier this year; each week, we're thrilled to present what they sent back. They're fantastic, beautiful, hilarious, thoughtful, informative, and often all of the above — and they prove that a recipe doesn't just have to be words on paper. Check out all the comics published so far in the archive »
This week's comic comes from New York-based artist and chef Rina Oh, the blogger behind Dining With Out-Laws. Here, she delivers perhaps the most involved PB&J recipe we've seen, calling for peanut butter, jelly, bread, and a pig roast with a side of childhood trauma.
See previous weeks' Recipe Comix in the archive »
Rina Oh is a New York-based artist, writer and professionally trained chef. She is a Meatless Mondays advocate and Korean food expert currently working a comic series called the Gastronomic Chronicles. She blogs about cooking at Dining With Out-Laws and Food2, sister site to the Food Network.