Recipe Comix: Potato Dumplings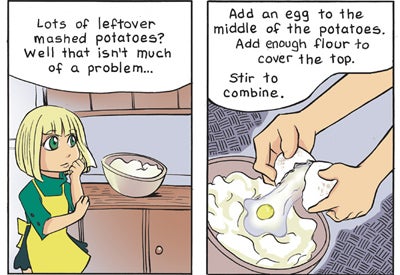 Draw us a recipe." That's the brief we sent to a slew of our favorite comic artists; each week, we're thrilled to present what they sent back. The resulting works of art are fantastic, beautiful, hilarious, thoughtful, informative, and often all of the above — and they prove that a recipe doesn't just have to be words on paper.
This week's recipe comic comes to us from Jennifer Weber, a New York City-based artist and illustrator whose comic _Run Lil Jared_is equal parts superhero fantasy, anime dream sequence, and really really fun time. Here, she shares a recipe for potato dumplings, perhaps the greatest achievement to which a dollop of leftover mashed potatoes can strive.
Jennifer Weber is a New York based comic artist and Illustrator. She has had work published in IDW's _Womanthology and They Draw and Cook: 107 Recipes Illustrated by Artists from Around the World. Jen also self publishes her own comics Run Lil Jared and Mimolette Bakery._