Recipe Comix: Wiener Schnitzel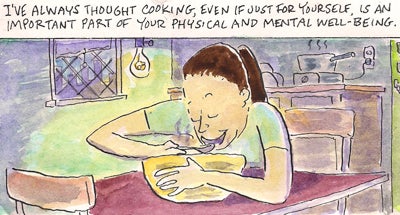 "Draw us a recipe." That's the brief we sent to a slew of our favorite comic artists; each week, we're thrilled to present what they sent back. The resulting works of art are fantastic, beautiful, hilarious, thoughtful, informative, and often all of the above — and they prove that a recipe doesn't just have to be words on paper. Check out all the Recipe Comix published so far in the archive »
This week's comic comes to us from Mimi Pond, a California-based writer and cartoonist whose claims to fame include, among other things, writing the premiere episode of The Simpsons. Here, she tells her own culinary origin story, from humble beginnings as a diner waitress to showing up at parties with cakes as welcome as the second coming. And, of course, Wiener Schnitzel, possibly the world's most beloved food.
See previous weeks' Recipe Comix in the archive »
Mimi Pond is a cartoonist and writer who has illustrated and written numerous books and the premiere episode of "The Simpsons." She lives in Los Feliz with her husband, the painter Wayne White, and their two children. Read more about her at her website.