Recipe Comix: Swiss Chard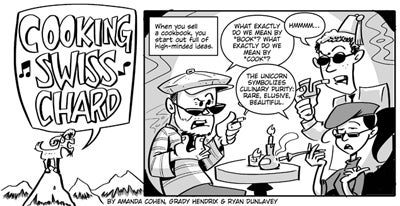 "Draw us a recipe." That's the brief we sent to a slew of our favorite comic artists; each week, we're thrilled to present what they sent back. The resulting works of art are fantastic, beautiful, hilarious, thoughtful, informative, and often all of the above — and they prove that a recipe doesn't just have to be words on paper.
This week's Recipe Comic is the product of a fearsome New York-based threesome: comic artist Ryan Dunlavy, writer Grady Hendrix, and chef Amanda Cohen of East Village vegetarian-but-not-crunchy restaurant Dirt Candy. Together, they comprise the team that wrote and illustrated Dirt Candy: A Cookbook (Clarkson Potter, 2012), which tells the story (and delivers the recipes) of Dirt Candy in comic form. Here, they deliver a primer on cooking Swiss chard, by way of a parable about the unpredictable flow of cookbook authorship.
See previous weeks' Recipe Comix in the archive »
Amanda Cohen is the chef-owner of Dirt Candy, an all-vegetable restaurant located in New York City's East Village that is recommended by the Michelin guide. Ryan Dunlavey is a New York City-based artist whose work includes _The Comic Book History of Comics, MODOK: Reign Delay, Tommy Atomic, and the Xeric and ALA award-winning Action Philosophers. Grady Hendrix has written for Variety, Slate, Playboy and is coauthor of The Magnolia League, a young adult series from Little, Brown. He is married to Amanda Cohen._