Recipe Comix: Year-Redeeming Bacon-Wrapped Sausages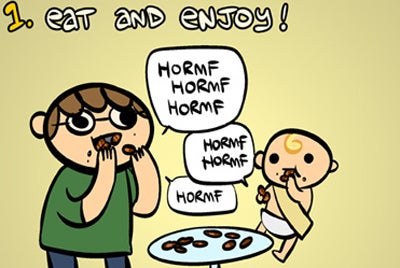 "Draw us a recipe." That's the brief we sent to a slew of our favorite comic artists earlier this year; each week, we're thrilled to present what they sent back. They're fantastic, beautiful, hilarious, thoughtful, informative, and often all of the above — and they prove that a recipe doesn't just have to be words on paper. Check out all the comics published so far in the archive »
This week's comic is the second Recipe Comix foray of Anthony Clark (you may recall his recipe for Party Potato Wedges that promises a snack so tasty that you become a winner simply by eating it). Here, the creator of the webcomic Nedroid has a surefire solution to a less-than-great year: a New Year's countdown of a recipe for meat wrapped in still more meat!
See previous weeks' Recipe Comix in the archive »
Anthony Clark is the author and illustrator of the webcomic Nedroid. He is also the colorist for the series The Adventures of Dr. McNinja.