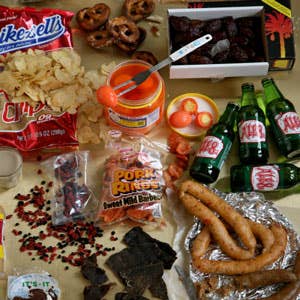 Culture
11 Regional Road Snacks
Look for these homegrown treasures on your next cross-country odyssey.
We've got nothing against Doritos and Snickers bars, but when it comes to snacking on the road, you can almost always do better than standard gas station fare. A panoply of salty, crunchy, sweet delights—well-loved regional treats that reflect the quirks and appetites of a particular state or region—awaits the road warrior hungry for local flavor. Here are 11 great finds, stretching from California to Maine, that we always seek out when we're journeying by car.
1. Uncle Henry's Pretzels (www.unclehenry.com) With its German-Amish roots, Lancaster County, Pennsylvania, is pretzel country. We think the pretzels made by Uncle Henry's, a company in Bowmansville, rise above the rest. Each one is hand-twisted and baked in a stone oven according to a traditional recipe; the results are dark, toasty, and studded with coarse salt.
2. Dateland Dates (www.dateland.com) Since the 1920s, travelers driving along Interstate 8, which traverses Arizona's Sonoran Desert, have stopped for gas and refreshment in the aptly named town of Dateland. Surrounded by 12 acres of date palm orchards, the entire town is owned by Roland and Charna Walker, who tend to the palms and the Dateland Restaurant, where you can indulge in coconut-flecked date rolls (pictured at top) and other baked goods made with the locally grown dates. You can also just buy a bag of the plump fruits and hit the highway.
3. Mike-sell's Potato Chips (www.mike-sells.com) This Dayton, Ohio-based company, which distributes its snacks across the Midwest, was founded in 1910 and makes some of the most flavorful chips we've ever tasted. Fried in peanut oil, they have a delicate crispness and a rich, round flavor. A car floor littered with empty bags is the only potential drawback.
4. **Red Smith Pickled Eggs **(www.redsmithfoods.com) The pickled egg, once a ubiquitous bar snack, has retained its popularity in many parts of the country. Red Smith, a pickling company based just north of Miami, steeps shelled, hardboiled eggs in a piquant blend of vinegar and crushed red pepper flakes, producing orange-tinted eggs that are spicy and agreeably sour, with luscious, creamy yolks.
5. Ale-8-One Ginger Ale (www.ale8one.com) A leisurely drive through Kentucky horse country becomes even more gratifying when there's a cold bottle of Ale-8-One in the cup holder. The ginger ale, which has been produced in the small Kentucky town of Winchester since 1926, is gently fizzy, with a soft, lemon-lime finish, and has sparked the interest of soda aficionados nationwide.
6. Guida Coffee Milk (www.supercow.com) Little known outside of Rhode Island, coffee milk is the official state drink there. We favor Guida's, which is made with Autocrat coffee syrup (a preferred, local brand) and can be found in most of the Ocean State's convenience stores.
7. Maine Munchies Dried Wild berries (www.mainemunchies.com) Made near Maine's Acadia National Park and sold throughout New England, Maine Munchies dried fruits, nuts, and trail mixes offer proof that road snacks can be both scrumptious and healthful. We especially like the dried wild Maine blueberries blended with dried goji berries, which have a slightly nutty flavor, in the company's "Maine to Everest" mix.
8. Carolina Country Snacks Pork Rinds (www.porkskins.com) A snack almost sacred in the South, pork rinds (deep-fried pork skins) deliver a smoky flavor and a satisfying crunch. We're partial to the puffy, porous ones made by Carolina Country Snacks, a family-owned company in Henderson, North Carolina. Don't miss the Sweet Mild Barbeque variety; they're spiked with paprika and decidedly less subtle than the name suggests.
9. It's-It Ice Cream Sandwiches (www.itsiticecream.com) These curiously named frozen treats have been a San Francisco favorite since 1928, when George Whitney, then the owner of Playland-at-the-Beach (a now defunct amusement park), dreamed up the idea of a scoop of vanilla ice cream squeezed between two oatmeal-raisin cookies; Whitney is said to have named his creation after a cow he knew of that went by the name It. The extra lure of this sandwich? The whole thing is dipped in chocolate.
10. Black Forest Bison Jerky (www.blackforestbison.com) For a tastier take on an old minimart favorite, try the jerky made with meat from the Black Forest Bison ranch, a 400-acre spread near Colorado Springs, Colorado. Smoked over hickory- and maple-fueled fire, the jerky is tender, pleasantly chewy, and flavored with worcestershire sauce and tamarind.
11. Bourque's Boudin (www.bourquespecialties.com) If you're cruising along Interstate 10 outside Lafayette, Louisiana, you can't miss the billboards touting "the world's best boudin". It's a boast that Bourque's Super Store of nearby Port Barre makes good on: its pork boudin—an emphatically flavored mix of pork, liver, rice, onions, black pepper, and cayenne pepper—and crawfish boudin are some of the finest we've had.