Announcing the Finalists in the 2nd Annual SAVEUR Best Food Blog Awards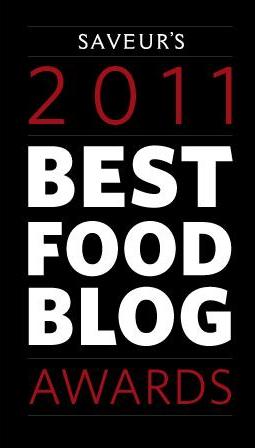 When we opened nominations for this year's SAVEUR Best Food Blog Awards, we weren't expecting the extraordinary number that poured in. By our best count, we heard from over 45,000 of you about your favorite blogs and websites — and oh, what websites they were! From slick professional interfaces to the homiest hand-coded HTML, from high-gloss photography to grainy cameraphone snaps, from gluten-free Japanese cookery to backyard ice cream to organic baby food, we threw ourselves headfirst into the wild, glorious, colorful world of food on the internet. It was overwhelming, to be sure — but it was also exhilarating, a total immersion in the talent, passion, humor, and sheer love of eating that connects us all online.
It was no easy matter to whittle the nominees down to six finalists in each of our seventeen categories, but we're thrilled to present our editors' selections below, a true cross section of the best culinary content the web has to offer. Vote here for your picks in each category.
BEST BAKING AND DESSERTS BLOG Vote in this category »
Desserts for Breakfast
Eat the Love
Evan's Kitchen Ramblings
Joy the Baker
She Who Eats
Sprinkle Bakes
BEST ORIGINAL BAKING AND DESSERTS RECIPE Vote in this category »
Beyond the Plate: Bomboloni with Meyer Lemon Curd
Cafe Fernando: Brownies with Hazelnut Butter and Chocolate Lace
Seven Spoons: Frozen Eton Mess
La Tartine Gourmande: Spiced Pumpkin Pots de Creme with Sauteed Apples and Pistachios
Sprinkle Bakes: Crown Jewel Cake
BEST COOKING BLOG Vote in this category »
101 Cookbooks
I Made That
Lottie and Doof
Smitten Kitchen
Sprouted Kitchen
The Wednesday Chef
BEST ORIGINAL SAVORY RECIPE Vote in this category »
Local Lemons: Sweet Corn, Chilis, and Burrata over Fettuccine
101 Cookbooks: Quinoa Skillet Bread
Delicious Days: Caesar Salad – Kind Of, But Better
Dinner: A Love Story: Baked Sausages with Apples and Potatoes
Eating Brooklyn: Farro Salad with Roasted Red Grapes, Kale and Swiss Chard
Melissa Clark: Braised Pork Shoulder with Tomatoes, Cinnamon, and Olives over Polenta
BEST FOOD PHOTOGRAPHY Vote in this category »
101 Cookbooks
Beyond the Plate
Not Without Salt
Seven Spoons
Sunday Suppers
What Katie Ate
BEST FOOD PHOTO Vote in this category »
Canelle et Vanille: Pear-Apple-Fennel Salad
Fussing with Forks: Roast Chicken
La Tartine Gourmande: Red Snapper
Nordjlus: Figs
Orangette: Blood Oranges
What Katie Ate: Double Chocolate Raspberry Pavlova
BEST WINE OR BEER BLOG Vote in this category »
Alice Feiring
Blog About Beer
Good Wine Under $20
Vinography
Washington Beer Blog
Wine Terroirs
BEST COCKTAIL BLOG Vote in this category »
Alcademics
Cask Strength
Cocktailians
Drink Dogma
Jeffrey Morganthaler
Kaiser Penguin
BEST CULINARY TRAVEL BLOG Vote in this category »
David Lebovitz
Eating Asia
My Kugelhopf
Rambling Spoon
Souvlaki for the Soul
Traveler's Lunchbox
BEST VIDEO CONTENT Vote in this category »
Epic Meal Time
Food Curated
Food52
FoodWishes
Perennial Plate
Sky Full of Bacon
BEST REGIONAL CUISINE BLOG Vote in this category »
Homesick Texan
Indian Simmer
Jun Belen
Just Hungry
Lucullian Delights
She Simmers
BEST KITCHEN TOOLS AND HARDWARE COVERAGE Vote in this category »
Delicious Days: How to Organize Your Spices
Food in Jars: Equipment
Kitchen Generation
Lifehacker: The Geek's Guide to Rebooting Your Kitchen
Regrettably Edible: Top 11 Crappy Kitchen Tools To Avoid
The Kitchn
BEST CULINARY ESSAY Vote in this category »
Gluten-Free Girl: "Apple Fennel Slaw (New Year's Cleanse)"
Monica Bhide: "Does a Recipe Need to be Complicated to be Good?"
Vanilla Garlic: "For Many Reasons: Blood and Chocolate"
Bon Appetempt: "In the Kitchen With Grandma"
Leite's Culinaria: "Saints, Cakes, and Redemption"
Grub Street: "The Crowded Restaurant Conundrum: Why We're All Gluttons for Punishment"
BEST COOK-THROUGH BLOG Vote in this category »
Alinea at Home
Cookbook Archaeology
Momofuku for Two
Nose to Tail at Home
The Bitten Word
The Way We Ate
BEST SPECIAL INTEREST BLOG Vote in this category »
Alkaline Sisters
Tartelette
Golubka
What the Hell Does a Vegan Eat Anyway?
The Sweet Beet
Silvana's Kitchen
BEST RESTAURANT/DINING COVERAGE Vote in this category »
Immaculate Infatuation
KevinEats
Skillet Doux
The Delicious Life
The Girl Who Ate Everything
Ulterior Epicure
BEST PROFESSIONAL BLOG Vote in this category »
Anthony Bourdain: No Reservations
Cooking Issues
David Lebovitz
Dorie Greenspan
Food52
Melissa Clark
Voting is open from April 26 through May 12. Winners will be announced on May 17. If you have questions, see our FAQ. Thank you to all who entered — your blogs inspire us!