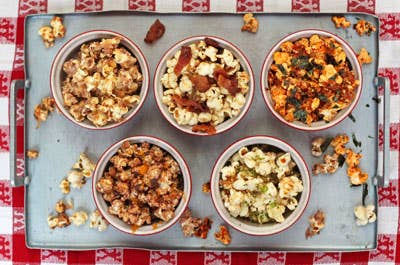 Culture
Out-of-the-Ordinary Popcorn for the Oscars
With the Oscars approaching, we've had television-watching food on our minds. An elegant spread of canapes may be some people's perfect Oscar Sunday plan, but we can't think of anything we'd rather curl up on the sofa with than a big bowl of popcorn.
In keeping with the spirit of Hollywood's grandest awards ceremony, we're in favor of popping corn the old-fashioned way on the stovetop: the surprisingly foolproof method is also a magical ritual: standing over the heat with oven mitts on, shaking a big heavy pot and waiting for that special sound to begin echoing under the lid. But no matter how you do it — over the stove, with an air popper, or in the microwave — popcorn is always more fun with extra toppings.
Our test kitchen team put their heads together and dreamed up five unexpected (and dangerously addictive) variations that will spice up your movie-(or Oscar)-watching experience. There's one in here for every palate, including a zesty cotija cheese shake inspired by Mexican street corn, crunchy maple-bacon caramel corn, a spicy, citrusy Mexican chocolate dust, a thick and gooey coconut cream, and an umami-rich pan-Asian toss that blends kimchi, sesame seeds, and nori in one flavor-walloping bowl.