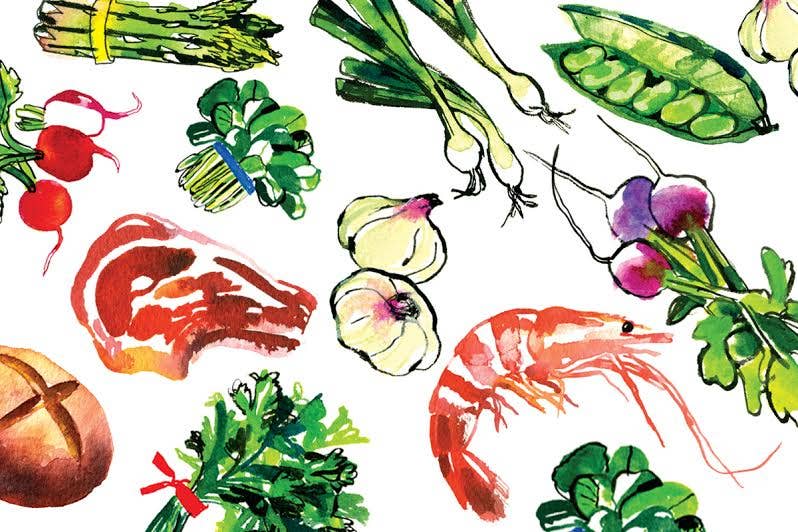 Remember those corny (and, okay, really delicious) Hickory Farms cheese balls that your folks (or maybe even you) used to receive during the holidays from Grandma or Uncle Gene? Gratifying though such gifts were, American palates have grown up since then. Nowadays we crave brash, clean, smart flavors and textures and foods that represent the entire globe, not just the cheese-and-beef-jerky shop at the mall. With that in mind, we came up with this selection of our favorite edible gifts. So, no matter what the taste buds in question prefer, there's something on this list guaranteed to please everyone on your list.
1. Carr Valley Prize Winners: Wisconsin-based cheese maker Sid Cook's company, Carr Valley Cheese, consistently takes home top honors from the American Cheese Society. This sample pack gives a taste of some of the company's most inventive winners, from the slightly smoky goats' milk Cocoa Cardona (the rind is rubbed with cocoa) to the citrus-tinged, olive oil-cured Gran Canaria (a blend of sheep's, goats', and cows' milk).
2. Squirrel Brand Five Pepper Meyer Private Reserve Cashews: Canned nuts are a party snack standard, but the versions dreamt up by the folks at the Squirrel Brand Co. are more than a cut above the rest. If we had to pick one of the company's products to send out during the holiday season, it would certainly be these meaty cashews, which get their addictive spiciness from rose, green, white, black, and brown peppercorns. Grab a big handful while you're able; they'll disappear fast.
3. Lobel's of New York Porterhouse: The true carnivores in your life will appreciate this gloriously formidable slab of USDA prime meat. Is it worth the equally hefty price? Absolutely. Lobel's dry-ages it for six weeks and always ships it fresh—no frozen mystery bricks here—and regardless of how you like your steak done, this porterhouse cooks up beautifully, retains its juices, and delivers rich, buttery flavor.
4. Fresh Thai Produce Kit: Set your friends on the path to enlightenment with ImportFood.com's starter pack of fresh, whole lemongrass stalks, galangal, and fiery thai chiles. These signature Southeast Asian ingredients will inspire any home cook to conjure that region's vibrant dishes in his or her own kitchen.
5. Parameswaran's Special Wynad Pepper: This mixture combines two peppercorn varieties, karimunda and panniyur, from the Parameswaran estate in Kerala, on India's southwestern coast, the region where pepper is native. Both types ripen fully on the vine before they're dried in the sun; the result is an astonishingly aromatic, fruity-tasting blend that promises to enliven your next garam masala or steak au poivre.
6. Medjool Dates: Though the fruit of the date palm tree has graced tables in North Africa and the Middle East for centuries, this variety—thought to have been reserved at one time for Moroccan royalty—has been grown in California's Bard Valley since the 1920s. The date's plump, almost translucent reddish flesh is honey sweet and always alluring.
7. Lammes Candies Peppermint Kisses: Balancing salty and sugary notes, these pretty, hand-striped taffy nuggets are made by a family-run confectionery in Austin, Texas. With their minty zing and satisfying chewiness, they challenge their Jersey shore boardwalk cousins bite for bite.
8. Pomegranates: Sure, pomegranates have had a lot of press devoted to them lately (thanks to POM Wonderful), but we've always regarded them as a wintertime jewel. Those sourced by Melissa's⁄World Variety Produce from California are consistently excellent. The fruit's rosy skin, which cracks open to reveal dozens of sweet-tart opalescent kernels, makes it one food gift whose fancy packaging is complimentary.