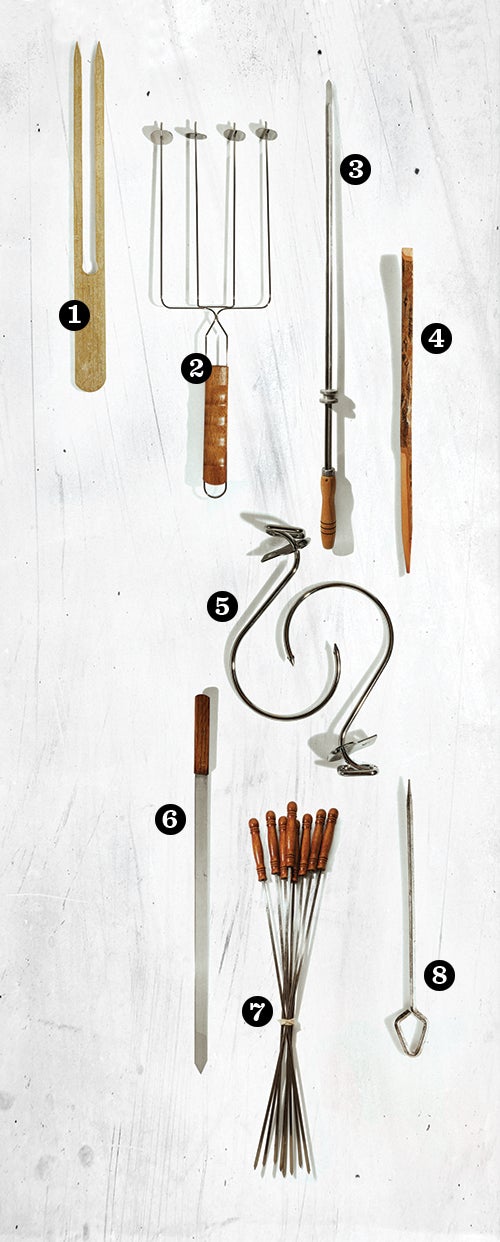 Japanese-inspired two-prong bamboo skewers hold round ingredients like scallops in place, keeping them from spinning when turned on the grill.
2. The widely spaced tines on this four-pronged skewer let you cook four kebabs at once; sliding metal disks help remove grilled food.
3. Long, sturdy espetu, Brazilian churrasco skewers, hold large cuts of meat which can be carved and served from the skewer.
4. Tiny rough-hewn wooden appetizer skewers are perfect for grilling small bites such as cherry tomatoes.
5. Curved skewers clip to the edge of the grill for charring ingredients like peppers just above the coals.
6. Broad-blade skewers offer plenty of surface area—ideal for molding ground meat kebabs.
7. Rapier-sharp squared blade skewers are designed for cubed meat; four turns grills all sides evenly.
8. Short stainless-steel skewers are small enough to fit on a plate, ideal for serving grilled foods.