A Better-Than-the-Box Lemon Icebox Pie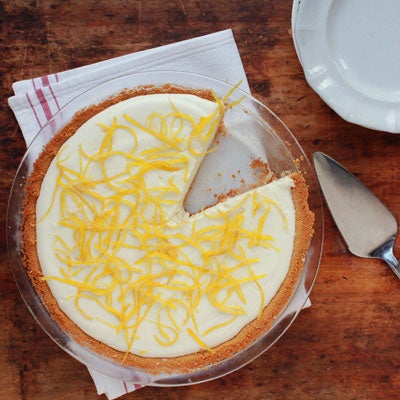 Last summer, my client's teenage daughter went through a lemon phase and, as their private chef, I could barely make enough lemony desserts to keep up with her interest. I was desperately searching for new ideas when I stumbled upon a package of dairy-free whipped topping that promoted a recipe for lemon pie using frozen lemonade concentrate and a purchased graham cracker crust. It turned out surprisingly well, but I felt more than a little guilty using such blatant store-bought shortcuts. After all, I was being paid for my cooking prowess, and the recipe required none. I figured there was a more authentic approach to such a crowd pleaser, and ultimately couldn't abide the sight of serving anything in that purchased foil pie tin.
A whole year passed before I got around to updating the recipe, replacing the frozen non-dairy topping with real whipped cream, and making my own lemon simple syrup as a stand-in for the lemonade. The store-bought graham crust was usurped by a self-assembled one using vanilla shortbread, and the addition of homemade candied lemon peel scattered over the top of the pie elevated this dessert into company status. I made the new version for my client's daughter recently, the creamy slices of lemon mousse melting into crisp golden crust on a twilit late-summer evening. The back-of-the-box version from the summer before hadn't given rise to such oohs and ahhs before digging in; the extra time and effort was worth it.