A Bounty of Small Plates
Turkish mezes reflect, in miniature, the breadth of Istanbul's cuisine.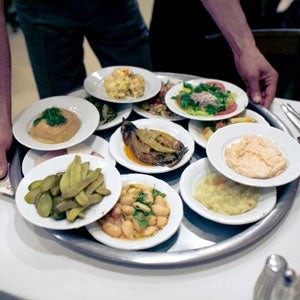 Small dishes or appetizers, known as mezes, are a component of meals (or, sometimes, a meal unto themselves) in many eastern Mediterranean countries, from Greece to Lebanon; the tradition likely originated in ancient Persia, where full-flavored mezes were eaten as a way to offset the bitter taste of young wine. The Turks—and Istanbullus especially—have a particularly deep love of mezes, of which there are dozens of varieties to be found in Istanbul alone. Often consumed at meyhanes, or taverns, along with raki, the strong anise-based spirit, Turkish mezes reflect, in miniature, the breadth of Istanbul's cuisine. Some, like the popular zeytinyağli pirasa (leeks stewed in olive oil), are served at room temperature; others, like the ubiquitous borek (fried or baked phyllo-like dough filled with cheese, meat, or spinach), are served hot. They range from simple salads to cooked dishes. Pictured is a mezes platter served at Refik Meyhane, a tavern and restaurant in Istanbul's Beyog˘lu neighborhood. Luscious tarama is a puree of bread, milk, and the smoke-cured roe of gray mullet or cod (it is a cousin of the Greek roe spread called taramosalata). Karisik tursu is a mix of salty pickled vegetables. Rus salatası, or Russian salad (also sometimes called American salad), is potatoes, carrots, and peas mixed with mayonnaise. Eggplant, a staple in Mediterranean cooking, stars in numerous Turkish mezes: cut lengthwise, fried, and served in a tomato sauce, it becomes patlican tava; blackened over a flame, peeled, and mashed with garlic, lemon, and (often) yogurt, it makes patlican salatası, a smoky, baba gannouj-like dip. Beans are another pillar of mezes platters: pilaki consists of barbunya beans braised in olive oil with onions, tomato, and lemon juice and served cold with chopped parsley; for fava, dried split fava beans are pureed and, often, molded into a mound or a wedge and topped with coarsely chopped dill. Offal, too, is a favorite on meze menus, from tender arnavut cig˘eri (strips of liver sauteed and topped with onions) to beyin salatası, poached lamb's brains served chilled on a bed of lettuce and sliced tomatoes and dressed with olive oil, lemon, and chopped parsley.