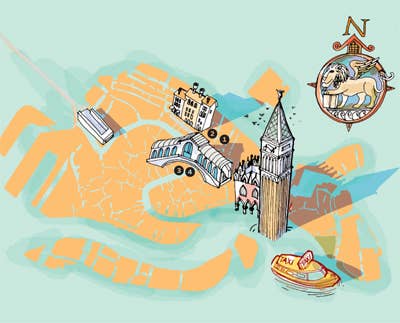 Culture
A Cicheti Tour
The tradition of cicheti is alive and well at these five Venetian spots. This article first appeared in our March 2012 issue, with the story Good and Plenty.
In the early evening, Venetians venture out on a giro di ombre, or a tour of the local bars and eateries, for cicheti_and the tiny glasses of wine known as _ombre, stopping off at a few places that specialize in different foods. For example, Ai Promessi Sposi (Calle dell' Oca 4367, Cannaregio; 39/041/241-2747), a restaurant that has excelled in cicheti for decades, does a superb job with fried foods: Their polpette, the classic Venetian deep-fried meatballs made with beef and potatoes, are the best I've tasted; they also do beautifully seasoned stuffed sardines, and when artichokes are in season, fried artichoke hearts (fondi di carciofi).
Also in the neighborhood of Cannaregio, near the main artery Strada Nova, is Ca' D'Oro Alla Vedova (Ramo Ca'D'Oro 3912, Cannaregio; 39/041/528-5324). Their small cicheti case is my go-to spot for excellent fish: tiny grilled seppia, or cuttlefish; perfectly grilled canoce and other crustaceans seasoned simply with lemon and salt. They also make sumptuous marinated sardines, sarde in saor, and vegetable cicheti, like cipolline inagrodolce (sweet and sour onions).
Near the San Polo side of the Rialto bridge, Cantina Do Mori (Calle deido Mori 429, San Polo; 39/041/522-5401) is a classic spot that claims to be the oldest bacaro in Venice, dating to the 1400s. The selection of cicheti is expansive, ranging from crostini topped with ingredients like anchovies and salami to creamy baccala mantecato, the whipped cod cicheto, served with grilled white polenta squares; and tramezzini sandwiches with a diverse selection of fillings. The wines include glasses of rustic vini from the Veneto region for just a few euros, as well as pricier regional Italian wines.
At sunset, there's no place I'd rather be than Bancogiro (Campo San Giacometto 122, San Polo; 39/041/523-2061), soaking up the view of the Grand Canal with a spritz in hand (pictured below) and a plate of their creative cicheti and salumi and cheese plates.
The best selection of cicheti I have ever encountered wasn't in the old city, but in Mestre, the mainland suburb where most Venetians live. It's well worth the 10-minute trainride to visit brothers Luca and Fabrizio Zanetti's Hostaria Vite Rossa (Via Bembo 34, Mestre; 39/041/531-4421), a 15-year-old place that features upward of 50 different kinds of cicheti daily, including all the standards as well as delicious snacks like mozzarella in carozza, the deep-fried cheese sandwiches, and leeks wrapped in pancetta. Like many young osteria owners, they're reclaiming the cicheti tradition in exciting new ways.