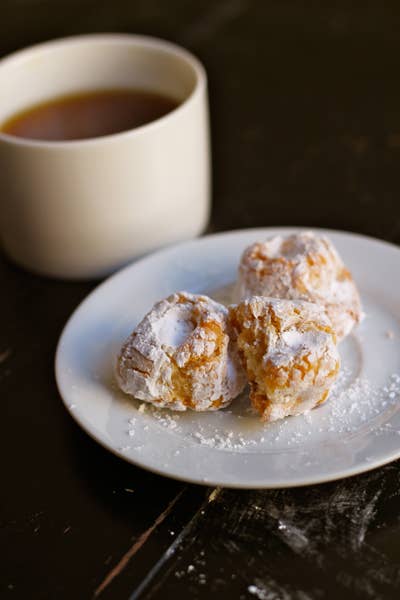 Culture
Almond Macaroons (With No Missing Ingredients)
Gerard rarely let anyone in on his secrets. A second generation French Boulanger, he believed that my only job as an apprentice was to pay close attention, with all five senses, and therefore recipes at his bakery were rewards to be hard-earned. So it was up to me to keep up with what was going on, and to make mental notes as he went along. If he did give me a recipe, you could be sure there was an ingredient or two missing. According to him, the missing ingredient was a test, a foolproof gauge of whether or not I was doing my job: paying attention.
When it came to these almond macaroons, I learned this recipe the hard way. I got the ingredients just right on my first try, but with my amateur, eager hands, I would over-knead the dough, resulting in a dry, crumbly, oily mix. Finally, Gerard called me to his side one day and showed me. "Technique is important too," he said, as he gently incorporated the almond paste with the sugar and salt, just barely combining them. The resulting cookies had a crunchy caramelized exterior, and a soft chewy interior perfectly enhanced with the rich flavor of amaretto.
I bake these macaroons all year round, but during the holidays they're in regular rotation. They store quite well for about a week in an airtight jar, and are a tasty treat to have on hand when guests drop by for a quick cup of tea. But unlike Gerard, I believe that good recipes must be shared generously — with full, detailed instruction, and nothing missing. Not even as a test.