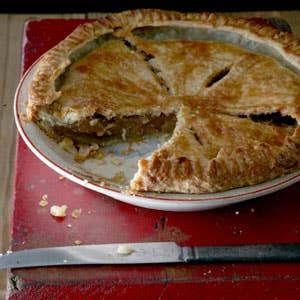 Culture
American Pie
Fifteen people. Twenty homemade pies. An entire Sunday afternoon ahead of us with nothing to do but talk and eat. Sounds like the makings of a perfect pie social.
Fifteen people. Twenty homemade pies. An entire Sunday afternoon ahead of us with nothing to do but talk and eat. We're not, as you might imagine, gathered around a punch bowl in a church basement. We're at a pie social in a sunny loft in Manhattan, and today the object of our worship is the sublime combination of flour, lard, and sumptuous pie fillings. There's a lemon curd pie, a ricotta tart, and a savory lamb-and-duck cobbler fragrant with fresh herbs, as well as seven apple pies, each featuring a different variety of heirloom apple. My contribution is a mock apple pie, conjured from Ritz crackers and lemon-infused simple syrup, which holds its own amid such esteemed company.
The guiding spirits of this gathering of pie enthusiasts are the bakers Jen Bervin and Ron Silver, coauthors of the cookbook Bubby's Homemade Pies (Wiley, 2007), a spirited paean to cobblers, crisps, crumbles, buckles, tarts, turnovers, and more. Bervin began hosting pie socials more than a decade ago in Bisbee, Arizona, where she was living at the time. "I come from a long line of Midwestern pie bakers," she says, adding that her family gatherings invariably included a table full of pies baked by her mother and her aunts, who would swap recipes and techniques as they savored one another's creations. After she moved to New York City, in 2001, and began baking pies for her friend Ron Silver's Bubby's Pie Company, she revived the pie social tradition. The functions follow a standard protocol: every pie is photographed, and every participant fills out an index card detailing the provenance of its recipe, be it James Beard or Aunt Mildred. Then the sampling and socializing commence.
When Bervin and Silver began working on the book together, they realized that they had different approaches to pie. "Jen's a traditionalist," says Silver, whose recipes in the book lean toward more unusual components, like duck confit. What they share is a penchant for history and personality: for three years, they hunted for recipes from library archives, old cookbooks, farmers' markets, and home cooks. Through it all, the socials functioned as a laboratory and a place for perpetuating the pair's philosophy, which they call, aptly, pie socialism. As Bervin puts it, "We want people to get comfortable with the basics so they create pies that are truly their own."