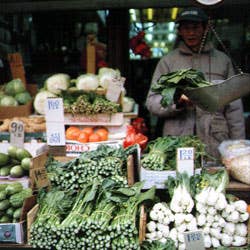 Culture
Asian Greenery
Bok choy and its leafy brethren are inspiring ingredients—if you know how to use them.
I remember clearly when and where I first discovered how glorious Asian greens could be. It was at a tiny sidewalk food stall in the grungy Malaysian truck-stop city of Johor Baharu, on an autumn afternoon in 1992. There I was, happily working my way through a platter of grilled rockfish, when the cook suddenly leaned over and handed me a plate piled high with some sort of stir-fried green leaves.
Though the dish was laced with pungent garlic-and-shrimp paste, the pleasant, fresh, bittersweet flavor of the greens shone through. When I stopped eating long enough to ask my Malaysian friend what they were, he gave me the kind of pitying look reserved for those who inquire about the patently obvious, and replied, "It is kangcong; in English you call it swamp cabbage."
Personally I had never called it anything—much less eaten it—but it tasted great. The cook, noting my enthusiasm, next presented me with a small plate of sweet, tender pea shoots, stir-fried with a touch of ginger until barely warm. Then came a bowl of mustard greens and pork, flavored with tamarind, chiles, and nutmeg.
These dishes were a revelation to me; I was sure that I had come upon Malaysia's premier greens cook. As I traveled through Asia, though, I found this casual virtuosity with greens to be almost commonplace. In a small Bangkok restaurant, I ate perfectly stir-fried bok choy mixed with tender squid, crunchy peanuts, and fiery miniature peppers. In Ho Chi Minh City, the cook preparing our canh chua ("sour soup") tossed in a handful of tiny, dark green tatsoi leaves at the last minute, preserving their edge of bitter flavor and slight crunch. In a 20-seat restaurant just outside Tokyo, the crisp tempura was accompanied by a small salad of mizuna—steamed, then chilled and deftly seasoned with soy sauce and sesame oil.
Greens of all kinds have been a staple of Asian diets for over a thousand years—but the leafy vegetables most popular in Asia never really made it into the American culinary mainstream. Instead, we favored European-style greens, like romaine or oakleaf lettuce, head cabbage, and, more recently, the widely popular arugula and radicchio.
Certainly, such salad fixings have always been more readily available in the U.S. marketplace than their Asian counterparts—but a broad range of Asian greens has long flourished in Asian-American communities around the country, just waiting to be introduced to a wider audience. If the non-Asian cooks among us, home and professional alike, failed to discover them, or to fully exploit their many virtues, maybe it's just that we didn't see them for what they were.
Today, happily, all that is changing. Americans are munching enthusiastically on baby mustard greens, tatsoi, and mizuna in salad mixtures; most supermarkets carry at least one type of bok choy, along with napa cabbage and mustard greens. Pea shoots, komatsuna, even edible chrysanthemum leaves (which long suffered the indignity of being described as "chop suey greens") appear regularly at produce stands.
So why have these delicious vegetables burst out of hiding to enrich our national larder? There are several reasons: To begin with, a large influx of Southeast Asian immigrants since the past 1980s has created a vigorous market for the greens they ate in their home countries—a wider variety than had been used by most established Japanese and Chinese restaurants. At the same time, young American and American-based European chefs, seeking ever more unusual and challenging ingredients—and themselves enamored with Asian cuisines—started discovering such greens, and then sharing their discoveries with their customers. Everyone from Alice Waters to Jean-Georges Vongerichten, along with such Asian-born chefs as Nobu Matsuhisa, uses Asian greens copiously and imaginatively today.
This has happened as seed companies, in Japan and elsewhere, have started to develop a range of new hybrid greens varieties that thrive in North America, making them accessible to both home gardeners and specialty farmers.
Although Asian greens are wonderfully healthy, a virtual pharmacy of vitamins and other beneficent compounds, the best thing about them is their vividness. Some are surprisingly delicate, but nonetheless imbued with emphatic flavors—a hearty echo of fresh peas in pea shoots, for instance. Others are downright bold: The peppery tang of mustard greens, the earthy pungency of bok choy, the bitter-edged complexity of mizuna—these are forthright, memorable qualities. Greens like these satisfy the adventurous American palate in something of the same way that chiles do: Their appeal is immediate and unmistakable. Asian greens are grown-up food that makes bitterness and bite a virtue.
When they're young and small, many Asian greens are mild and tender enough to be eaten raw in salads. As they mature, they become somewhat more bitter and fibrous, and are best eaten cooked.
Fortunately, Asian greens lend themselves beautifully to many different preparation methods. Carefully stir-fried or sauteed, they can, for example, supplant broccoli rabe in pasta dishes. The slight astringency of wilted mustard greens or mizuna perfectly complements rich ingredients like duck or pork. A handful of tatsoi or baby bok choy slipped into a soup or stew at the last minute enlivens the broth.
That's not to say that Asian greens can just be tossed willy-nilly into anything—or that they can necessarily be treated like their European counterparts. It's important to understand the flavor and texture of each variety. And it's important to remember that, with long exposure to heat, the greens can develop an acrid undertone.
Another caveat: A full range of Asian greens may not yet be available at every produce stand or even Asian market—and finding a particular green may involve some linguistic difficulties. In my local Chinese market, for instance, bok choy is called bac toi, the sign over the pea shoots says Bean Leaves, and the only label on the choy sum is in Chinese.
However, once you learn to recognize each Asian green and understand its special qualities, chances are that you'll become an instant enthusiast. If you keep at it, before long you might even find yourself cooking as well as that sidewalk chef in Johor Baharu.