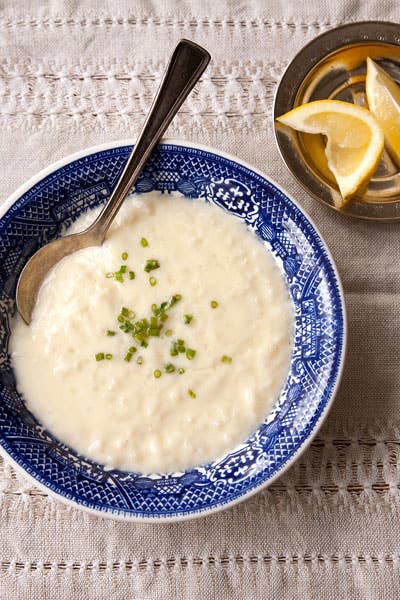 Culture
Avgolemono, a Greek Easter Classic
My husband comes from a large Greek family, and although avgolemono (Greek lemon chicken soup) is a mealtime staple throughout the rest of the year, it occupies a place of honor at Easter. Far-flung family members return home for the annual celebration expecting all of their favorite dishes. With our modern schedules and out-of-state address, my husband and I aren't always able to make it back home for the festivities. But as this is his favorite soup—equivalent to the classic chicken noodle for many of us—I set out to give him a taste of home.
I've watched his mother and grandmother make this soup many times, and they never use measuring cups. For the women in my husband's family, the recipe is more muscle memory than cogitation. Yet for all its apparent simplicity, avgolemono can be unforgiving if steps are heedlessly rushed or ingredients skimped on. The hardest part is keeping the egg-lemon sauce from breaking once it's added to the hot broth, which results in a lumpy, curdled mass that still tastes fine but looks like failure. Older recipes outline a technique of separating and beating the egg whites before folding in the yolks and lemon juice, but in recent years my husband's grandmother has turned to the modern convenience of her blender with no loss of quality; here, I have opted for the same. I also added a safety net of cornstarch, because once the eggs have been added, there's no sure way to reheat the soup without the risk of curdling. Since there are never any avgolemono leftovers at family functions, this has never been a problem in the past, but for just the two of us, we'll be wanting to warm this up the next day.
And finally, the amount of lemon juice is elastic and objective. Some family members stick to the bare minimum to attain a light lemony flavor, while others are notorious for their heavy handed squeezes. To avoid minor filial disagreements and good-natured ribbing, fresh-squeezed juice is served alongside the soup to tailor to individual tastes.