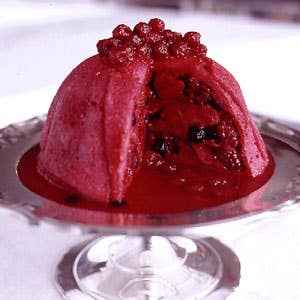 Culture
Bread and Berries
England's summer pudding is a tribute to the season.
Summer pudding is no tapioca. It does not rest passively, demurely, in a dish. It wobbles obstinately on a plate, the essence of the season, an imposing tiered mold of berries and juice-saturated bread. Colored a shocking shade of magenta, it is anything but shy.
Looks notwithstanding, summer pudding was originally a simple country dish—and, like all the best puddings, it is English, created in the 18th century for those intolerant of rich pastries. (It was first called "hydropathic pudding", meaning it was a kind of water—or, in this case, juice—cure, and was served in nursing homes.) Although that guardian of the traditional English kitchen Elizabeth David used only raspberries and red currants in her summer pudding, it is best made with a mix of whatever is ripest and sweetest on the bush—anything goes. Try blueberries, blackberries, strawberries (both wild and tame), huckleberries, boysenberries, and, for tradition's sake, raspberries, and currants (either white or red) if you don't mind big seeds. Summer pudding is a bold but versatile study in berry contrasts: No two versions should taste the same.
What it shouldn't be is a soggy mess. "Don't make it too wet," advises chef John Williams of Claridge's in London, who passed on this recipe, "and don't make it sloppy." Of course, regardless of technique, it's pretty hard to ruin a bowl of fresh berries: The proof is in the pudding.