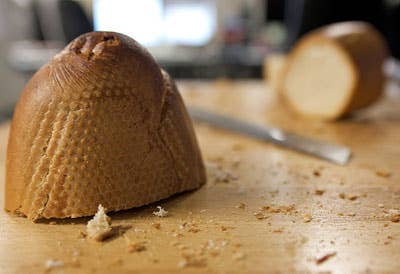 Let us now praise stale bread. I've been using a lot of it lately, in the form of bread crumbs, because I've been making macaroni and cheese. If, like me, you like a golden-brown crust on top of your macaroni and cheese—or your vegetable gratin, or your moussaka, for that matter—bread crumbs are invaluable. They've already gone through the baking process once, after all; they've developed all the rich, toasty flavors that come with browning in the oven. Scattered across the top of a casserole and baked a second time, their crispness and flavor intensify exponentially.
In medieval Europe, cooks relied on bread all the time to thicken their sauces. (Flour-thickened sauces like bechamel didn't emerge until the 17th century.) The creamy, comforting bread sauce served with the Christmas roast in England is one relic of that period; spicy Catalan romesco sauce is another. In both of them, the bread is so much more than mere filler. It gives great body and texture; it balances sharper flavors; it contributes round, nutty flavors of its own that raw flour never could.
What I love about bread crumbs the most, I think, is the way they act as a vehicle for flavor and richness. Saute bread crumbs in butter, and they'll take on the flavors of any herb, spice, pulverized nut, or grated hard cheese you want to combine with them, and then helpfully disperse those flavors throughout a dish. I'm powerfully addicted to the combination of bread crumbs, olive oil, and anchovies, as in the classic Sicilian preparation of spaghetti with a simple sauce of anchovies, olive oil, onions, (maybe) parsley, and (sometimes) tomatoes that's tossed with bread crumbs before serving. The bread crumbs don't just give the dish a fantastic, crunchy texture; they grab that sauce and bind it to the pasta so that every bite delivers maximum flavor.
Suzanne Goin might well be the master of the flavored bread crumb. In Sunday Suppers at Lucques (Knopf, 2007), she includes recipes for bread crumbs flavored with everything from thyme to bottarga. And she uses them well. My absolute favorite are the mustard bread crumbs Goin invites readers to scatter over an already mustard-slathered pork loin and its accompaniment of haricots verts and spring onions. I sprinkle that magic sawdust—or some improvisation inspired by it—over root vegetable soups, casseroles, roasts, and anything else that can use a little savory zing.
Really, there's no limit to what you can get an old hunk of bread to do for you. I keep a Ziploc bag of plain bread crumbs in the freezer and add to it whenever I've got some leftover bread to recycle. I feel better just knowing it's there.