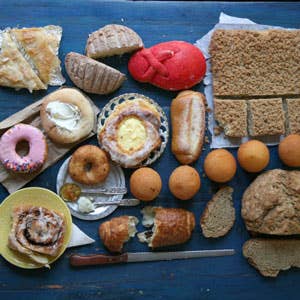 Culture
Breakfast Breads and Pastries
The baked goods eaten for breakfast around the world come in seemingly countless varieties; here are some of our favorites.
The baked goods eaten for breakfast around the world come in seemingly countless varieties, but most fall into one of several common families.
The sweet, yeasted buns and cakes of northern Europe, many of which began as indulgences reserved for holidays, have migrated across borders and to far-flung colonies. American coffee cake, for example, is descended from a raisin-studded holiday cake called kugelhupf that's eaten in Alsace, Austria, and Germany. What we call the danish was allegedly invented by Viennese pastry chefs working in Copenhagen, and pain au chocolat, though widely understood to be French, is also believed to be a Viennese invention. The icing-slathered cinnamon roll is a riff on spiced spiral buns such as Sweden's kanelbulle and England's chelsea bun. And Mexico's pan dulce, a yeast bun that comes in a range of forms, is a legacy of successive periods of occupation in that country by the Spanish and the French.
Many fried pastries, too, have roots in holiday traditions. The deep-fried cake balls known as buñuelos, traditional Christmastime treats in Colombia, are now eaten for breakfast in many parts of Central and South America, often with hot chocolate. The North American doughnut is an offspring of the oliekoecken (oil cakes) eaten in Holland at Christmas. And though the savory South Indian lentil fritter called medhu vadai may look like a doughnut, it evolved separately. It's often served with coconut chutney and sambar, a lentil stew flavored with tamarind.
The layered phyllo pastries, such as custard-filled bougatsa, often eaten for breakfast in Greece and in neighboring Balkan states, are closely linked to the Turkish borek, a savory cheese- or meat-filled pie.
The bialy, one of a number of breads that arrived in North America with European Jewish immigrants, remains a standby of New York City street carts but has since vanished from its native Poland. Its cousin the bagel is traditionally boiled before being baked, so it acquires a chewy texture.
Irish soda bread was developed in the 19th century after the advent of baking powder, an ingredient we can also thank for such quick-rising marvels as muffins, biscuits, and pancakes.