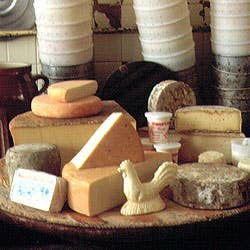 Culture
Cheese Country
The Savoie region of the French Alps is home to some of the most appreciated cheeses in France.
The Savoie is prime dairy land, with a cheese-making tradition dating back to Roman times. Its cheeses today are some of the best and most famous in France, found on upscale Parisian cheese boards as well as on rustic mountain tables. These are the most important:
BEAUFORT: The so-called prince of gruyeres—a firm, buttery cow's-milk cheese, pleasantly salty and sometimes slightly sweet. In texture and flavor it resembles good Swiss cheese, but it rarely has holes.
BLEU DE TIGNES: A small, smooth, round, blue-veined cow's-milk cheese with a distinctive flavor. (It is also called tignard or persille de tignes.)
REBLOCHON: Popular all over France, this semisoft, creamy cow's-milk cheese derives its name from the local dialect word "reblocher", meaning the milk that drips from cows' udders.
TOMME DE COURCHEVEL: A goat's-milk tomme, smooth and mildly acidic. (Tomme de beaufort and tomme des allues, also from the Savoie, have similar character.)
TOMME DE SAVOIE: One of the treasures of traditional Savoyard cheese-making, tomme de Savoie (or something very much like it) was praised by Pliny the Elder and the physician Galen. A firm but supple cow's-milk cheese, it has a mild nutty flavor and a rich aroma.