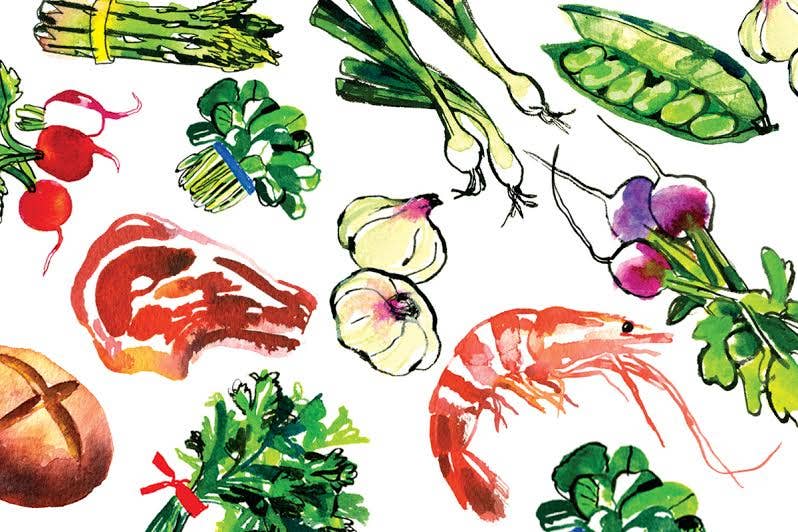 Culture
Chilling Moments
13 milestones in the evolution of the modern refrigerator.
The act of refrigeration is almost as old as civilization itself. The earliest cooling techniques entailed harvesting ice and finding ways to keep it from melting. Later, people figured out that the temperature of a liquid drops as it turns to gas—the principle behind the modern fridge, in all its elegant, inelegant, and ingenious incarnations. Here, 13 technical, aesthetic, and culinary milestones on the road to cold.
Seventh century A.D. Icehouses called yakhchal are built in Persia. Each domed mud building stands before a shallow, tile-lined channel. Water from a nearby stream or river is diverted inside via the channel and allowed to freeze overnight. After ice has built up over several nights, it is harvested and stored inside the dome.
Late 1700s Iced fruit desserts become fashionable among Parisians. The refreshments, made by churning crushed fruit and ice in a saltpeter-lined bucket, are early precursors to sorbets, which gain popularity during the fridge's midcentury heyday.
1810s Home ice delivery catches on in America, and iceboxes (like the Seeger model, below, made in St. Paul, Minnesota) become common household items. Most consist of a zinc- or tin-lined wood cabinet containing a compartment for ice (usually delivered in large blocks) and one for food, along with a tray to catch melt-water, or holes for drainage.
1913 An inventor named Fred Wolf Jr. patents a freestanding electric compression unit that's meant to be attached to a home's icebox. He gives it the less-than-memorable name Domelre (for DOMestic ELectric REfrigerator). It can be plugged into an electric light socket.
1926 Clarence Birdseye invents the blast freezer, which freezes vegetables so quickly that their taste, texture, and appearance are not damaged. By the 1930s, when home fridge models with freezers are common, his namesake company sells 500 tons of frozen fruits and vegetables.
1927 General Electric introduces the Monitor Top, a home fridge equipped with a compressor integrated with the body of the appliance. Less expensive than its bulky predecessors, it's an instant success. Its coolant is sulfur dioxide, a noxious gas.
1933 Guy L. Tinkham, an engineer at McCord Radiator and Manufacturing in Detroit, invents the flexible metal ice cube tray. It costs 50 cents.
1933 The Crosley Radio Corporation introduces the Shelvador, which has shelves in the door and claims to increase fridge space by 50 percent.
1949 The first self-defrosting refrigerator and freezer hits the market, relieving users of the recurring chore of clearing away ice buildup. It's equipped with a timer that triggers a heating element wrapped around the freezer's coils.
1955 The Kelvinator company introduces the Foodarama, the first side-by-side refrigerator-freezer. The 47-inch-wide appliance has a "breakfast bar" in the door that keeps bacon, eggs, and juice handily clustered together. It also boasts a built-in plastic-wrap dispenser and an unrefrigerated drawer for bananas. The Foodarama comes in eight pastel colors, including Bermuda Pink and Buttercup Yellow.
1970s Manufacturers release fridges, like the Moffat model, above, in "natural" colors and patterns (e.g., the faux cork on the Moffat's door pulls).
2000s Compartmentalization is deemed the way of the future. In 2000, GE introduces a model with discrete temperature controls for separate compartments. In 2009, a University of New South Wales design student named Angeline Meloche submits her design for the Celsius Modular fridge. It has fully independent drawers and cabinets that can be stacked in multiple configurations, as well as double-glazed doors that allow the consumer to see inside without letting the cold out.
2004 Funded by the Ben & Jerry's ice cream company, Penn State University researchers produce a freezer that cools using powerful sound waves instead of chemical refrigerants. The commercial application of thermoacoustics, as the science is called, is still being developed.