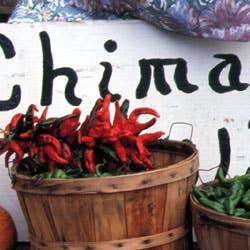 Culture
Chimayó's Chile Culture
Hot days, cool nights, and family traditions give this legendary New Mexican pepper its unmistakable character.
Driving northeast from Santa Fe to Chimayo in northern New Mexico, you pass through grass-covered badlands scarred with erosion, scattered with red rocks formed into fantastic shapes, softened slightly by rabbitbrush and piñon and juniper trees. For a long time, there isn't a dwelling in sight. The tail end of the Rockies slopes up to the east. To the west, across the Rio Grande, rising above blue mesas, are the Jemez Mountains.
Though Chimayo, which takes its name from the Tewa Indian word for flaking red stone, is only 26 miles from Santa Fe, it completely lacks that town's stylishness and cosmopolitan flair. There is a quiet sweetness and calm about the place, enhanced by the broad shallow river that flows through it, keeping the landscape soft and green in the midst of Chimayo's harsh surroundings.
Evidence of a way of life that has endured for generations can be seen in the old apple orchards and gardens, and in the small fields of chiles for which Chimayo is renowned. In autumn, the scents of apples and of piñon smoke, from fires used to roast the chiles, saturate the air.
Unlike larger, mass-produced chiles grown in other parts of the state—whose conformity makes them perfect in the way that iceberg lettuce is perfect—Chimayo chiles are unpredictable. A single plant might produce some chiles as long as six or seven inches and many more that are shorter; a few might be straightish and skinny, but most will be bent oddly into curlicues. Their irregularity seems to reflect the landscape, with its winding roads and dry-rock badlands juxtaposed with lush valleys and tiny fields.
But looks are only one way to judge this chile. Once it has ripened and been dried and ground, its perfume is remarkable—a particular mix of sweetness, richness, and spiciness—simultaneously grounding and exhilarating. It is piquant without being overbearingly hot, with a bite that offsets the complexity of its distinctive chile flavor.
Chimayo chiles are the same variety grown throughout northern New Mexico—a variety that has been around for so long that it's known generically as native chile. No one knows for certain how these chiles first came to New Mexico to begin with, but one story is that the colonial entrepreneur Don Juan de Oñate brought them from Mexico in 1598 when he settled the area on behalf of the King of Spain.
Native chiles go by many names in the region. There's the Velarde chile, the Española, the Taos Fiesta, the Dixon, and the Santo Domingo. All are small and twisted, but each has its characteristic balance of heat and flavor. The plant is so sensitive to soil, temperature, and water that the fruit varies from one patch of land to the next.
Chimayo chile farmers still irrigate by the communal-ditch system, meaning that water isn't always available. It's widely believed that the stress of irregular irrigation, plus the strain of hot days followed by chilly nights, adds to the special character of local chiles. Of all the native chiles, those from Chimayo have long been considered the standard in New Mexico, and have brought the highest prices.
Whenever people in Chimayo talk about chiles, they invariably say something like "My grandmother gave me seeds from the attic." And, in fact, seeds are often passed down through families. Chiles are bought and sold with a sense of ritual—over a conversation or a meal, or during a visit to the family. When seeds or their fruit change hands, it is not simply a financial transaction; it is a communal act.
Most people outside the region who are familiar with the Chimayo chile know it only in its powdered form, called molido. But the chiles are also eaten green. Because of their twisted shape and thin skin, they have to be roasted with great care. Some locals still do it the traditional way, blackening them over a thin layer of embers in an horno, or clay beehive oven. The ends are snipped to let the steam out, which more or less flattens the pods and exposes them evenly to heat. The roasted chiles are dipped into water, put into gunnysacks to sweat, and peeled. Then, in a concession to modern technology, they are frozen for use throughout the year.
It takes an entire family days to roast enough green Chimayo chiles to last until the next crop. By comparison, chiles from the area around Hatch—hybrid varieties with names like Big Jim and Numex 6—can be thrown a bushel at a time into a hopper, roasted, and dumped into plastic bags for sweating. Then one person can peel a sack of them in a matter of hours.
Chimayo chiles that aren't picked green are allowed to ripen on the vine until they turn red. Then they're dried and strung into long chains called ristras. It is said that the length of a ristra was traditionally related to the height of the person stringing it: Supposedly a ristra as long as a person was tall would meet his or her chile needs for the year.
Whether red or green, dried or fresh, chiles are the backbone of the straightfoward local cooking. Ristras hang in every native New Mexican kitchen. Pods are pulled off as needed and added whole to a pot of posole (hominy stew) or beans, crumbled to make the red flakes called caribe, or ground into molido for the red chile sauce (chile colorado) that's eaten on a daily basis all over the state. Whenever you order a dish in a local restaurant, the waitress asks "Red or green?"—referring to the type of chile you want with it. If you can't decide, you ask for "Christmas" and get some of both.
Chimayo chiles remain something of a rare commodity, though, even for local residents. Much of the ground chile and the ristras sold around Chimayo are likely to be made from Hatch chiles—though you can buy Chimayo and other native chiles at the local farmers' markets.
Are Chimayo chiles really the best in New Mexico? Wherever people grow chiles, passions are strong about the subject. If someone from Chimayo says that Chimayo chiles are the best, there is no arguing. It's not a question of intrinsic good. It's a taste and smell people have grown up with—their version of Proust's madeleine or an Italian mother's cooking. They're not just a spice; they're part of an old culture, an ancient way of life.