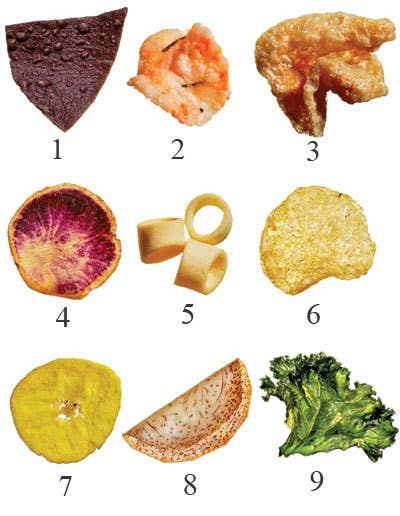 George Crum, chef at Moon's Lake House in Saratoga Springs, New York, is often credited with being the first to serve potato chips to the public. It's likely that the chips were "invented" by Crum's sister, Katie Wicks, when, simultaneously peeling potatoes and frying crullers, she dropped a spud shaving into the deep fryer. Crum was so pleased with the result of this accident that he put the chips on the menu. By the 1890s, "Saratoga chips" were being commercially produced, and family-run chips businesses sprouted, servicing grocers and speakeasies. In the 1920s, the invention of the mechanical potato peeler and the continuous fryer increased production and bolstered the chip's rise in America. However, thin fried potato rounds precede Wicks; they were mentioned as early as 1795 in the French treatise on potatoes La Cuisinière Républicaine. Other chips go back even further; the corn chip's predecessor is the pre-Colombian Mixtec to topo, a crunchy, masa-based flatbread baked in a clay oven and meant to be long-lasting. Today, from potato to corn to Pacific taro chips, Caribbean plantain chips, and even roasted kale, there's a chip out there to go with any sandwich. Here are some of our favorites:
1. Xochitl Blue Corn Chips Lime-treated, dried blue corn is stone-ground to form the masa for these delicate azure chips, which go well with Mexican tortas.
2. Ebi Flower Prawn Crackers This Japanese version of a popular Asian snack food is made with potato starch, powdered shrimp, and flecks of seaweed.
5. Hula Hoops Original Rings A British favorite since 1973, these cylindrical potato and rice flour snacks have a savory french fry flavor.
6. Zapp's Cajun Dill Gator-Tators Flavored with dill pickle and Cajun spices, these green-tinged kettle chips are named for a reptilian native of Louisiana, where they're made.
7. Lam's Plantain Chips A family-owned Guyanese company fries these chips from the banana's starchy cousin. Try them with a Cubano or another Latin sandwich.
9. Homemade Kale Chips The torn leaves of this curly, green cabbage gain a nutty, delectable taste when roasted with olive oil, salt, and freshly ground pepper.