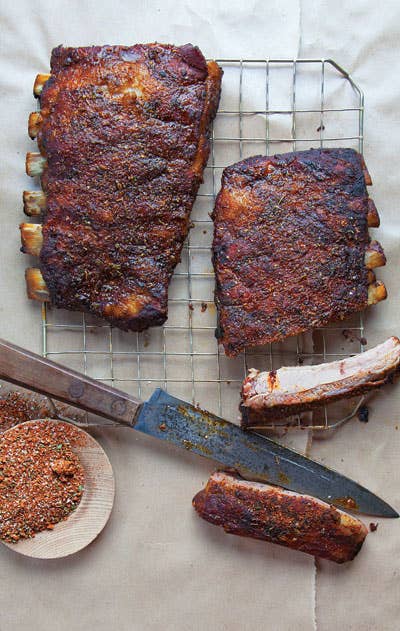 Culture
Classic 'Cues: Five Traditional American Barbecue Styles
Prime rib usually means thick, juicy steaks or centerpiece standing roasts, but at the 111-year-old Kreuz Market, in the Hill Country town of Lockhart, Texas, it forms the basis of some of the state's most sumptuous barbecue. Before refrigeration, pit-smoking was a means of preserving meat, but at Kreuz, the method has always been applied to even the choicest cuts. To this day, customers line up early in the morning to get their sliced-to-order prime rib just as it's coming off the pit, juicy and rare beneath its crunchy salt, pepper, and cayenne crust. One of our favorite riff's on Kreuz's classic dish comes from Hill Country Barbecue, a restaurant in New York City. There, pitmaster Charles Grund serves prime rib with a sauce made of peach preserves and spicy chipotle—a nod to Texas's famed fruit crop and to its Mexican influences. The condiment sparkles alongside that tender, smoke-scented meat.
Barbecue cooks in St. Louis have developed a style of cooking pork that's entirely their own: Spareribs and pork steaks are grilled over an open fire to develop a nice char, then they're placed in a pan of sweet, spicy sauce and simmered on the grill until sticky and fall-apart tender. The beauty of this method is that none of the flavor is lost: As the meat braises in the rich sauce, the liquid reduces and caramelizes, melding with the juices from the meat. We developed a take on this technique that can be done entirely in the oven. Our version calls for country-style ribs, a delectable cut from near the shoulder blade that's marbled with fat but plenty meaty. After a sear in a hot skillet, the ribs are nestled in a pan with the sauce, then braised to tenderness in the oven.
Back in 1925, railway worker Big Bob Gibson dug a pit in his backyard in Decatur, Alabama, nailed a plank-oak serving table to a sycamore tree, and started smoking barbecue for friends, co-workers, and passersby. One of Big Bob's specialties was hickory-smoked chicken, for which he devised a tangy, mayonnaise-based white sauce spiked with horseradish, vinegar, and cayenne that proved wildly popular, eventually spreading to barbecue joints throughout the region. Today, at Decatur's two Big Bob Gibson Bar-B-Q restaurants, a fourth generation of Gibsons oversees the brick-lined pits where butterflied chickens are smoked until juicy and browned. After that, they're dunked in the white sauce and served dripping with it. For our version of Big Bob's chicken sandwich, we baste the meat with the signature sauce during the smoking process, which adds another layer of flavor, then serve the meat, pulled away from the bone, on a soft, sesame seed bun with pickle chips and another dollop of that fine substance.
Proving that barbecue is a technique that works as well for seafood as it does for meat and poultry, chef and cookbook author Elizabeth Karmel wraps whole, fresh rainbow trout in strips of bacon and smokes it to beautiful effect. The bacon bastes and flavors the fish while it cooks, keeping it from sticking to the grill, while cooking the trout with the head and tail on maximizes moisture and flavor. Inspired by a recipe in Karmel's book Taming the Flame (Wiley Publishing, 2005), we stuffed the cavity of the trout with fresh sprigs of tarragon, which yields fragrant, almost lemony, flesh. For cooks who lack outdoor space for barbecuing, this is the perfect recipe: The trout fit neatly into a stove-top smoker and emerge, around 15 minutes later, ready to eat.
Memphis, Tennessee, is home to scores of places where pork is smoked and doused in a molasses-rich tomato-based sauce. But saucy, smoky barbecue isn't the only kind that finds favor in this city. At the Rendezvous, a famous restaurant downtown, charcoal-grilled pork spareribs are covered in a dry rub with a decidedly Greek accent. The rub was developed in the 1950s by Rendezvous founder Charles Vergos, a second-generation Greek-American who basted ribs in a vinegar sauce and coated them in a mixture of herbs—thyme, oregano, marjoram—along with cayenne and paprika. In our version, the coating is massaged into the ribs an hour before cooking, to allow the meat to soak up the flavors. The racks, sweetened by a basting of apple juice, develop a delicious bark in the smoker that gives way to succulent meat.