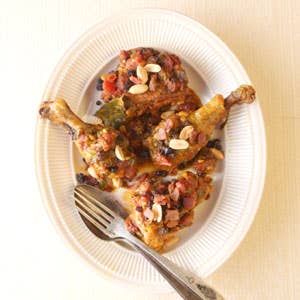 Culture
Menu: Classic Southern Comfort Food
With Mardi Gras close at hand, we've got Southern cooking on our minds. What better way to gear up for next week's King Cakes and etoufees than with a dinner inspired by the finest comfort food the American South has to offer? Anchored on Country Captain, a savory, spicy curry native to the port cities of the Southeast (its name is a reference to the spices that ships' captains would bring back from their exotic travels), set the table for crab cakes, collard greens, creamy grits — and of course, a dessert of layered Hummingbird Cake, whose nutty, pineapple-studded flavor was a favorite of Edna Lewis, grand dame of Southern cooking.
These dressed-up Mardi Gras crab cakes are a favorite in Mobile, Alabama.
This curried chicken casserole is a Southern Lowcountry classic whose name harks back to the days when ships' captains in port cities like Charleston, South Carolina, traded in spices acquired during their travels abroad.
A favorite side dish to many Southern meals. Collard greens soak up the flavors they are cooked in and respond well to a low and slow method of preparation.
Scott Peacock and Edna Lewis, authors of The Gift of Southern Cooking, take a dim view of fancy ingredients added to grits. "People should really leave grits alone," says Lewis.
Honoring the legacy of the Southern cook Edna Lewis, this luscious, fruit-and-nut-studded layer cake is served in Atlanta's Watershed restaurant.