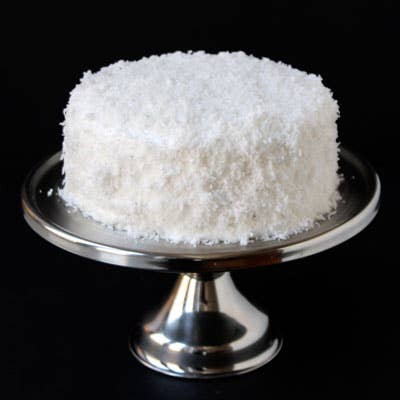 Each year when I go home to Mississippi for Easter, I look forward to eating coconut cake. While ham, lamb, potato salad, and other typical springtime dishes are on the rotating list of foods my family enjoys at Easter, coconut cake is a constant, though I'm not really sure why. We always had a cake at my paternal grandmother's house, one she usually bought from her neighbor down the dirt road who had the time and strength to take on such a cake.
But for this year's holiday, when that grandmother will be visiting her daughter in Florida, I've decided to make a coconut cake from scratch. My mother, going through family heirlooms, recently found her mother's old recipe book, a yellowed, seam-busting 1951 edition of Joy of Cooking packed with dozens of hand-scribbled recipe cards stuck among Joy's recipes, many of which are drastically altered with penciled notes. She suggested I make her mother's coconut cake this year because it was the best she's ever tasted—and this coming from a woman with whom I've eaten more coconut cakes than I care to admit. Her mother died a year before I was born, so I never met her, but I could tell from her recipe collection that she must've been a dang fine cook. Whenever my mother and her sister eat anything, they compare it with their mother's version, which wins every time.
Intent on re-creating the famed coconut cake, I searched and searched through my grandmother's book, meticulously reading the recipe cards tucked in its pages ten times over, but the cake recipe wasn't there. Finally, my mother remembered that the recipe had never actually been written down but was simply an adaptation of one for an equally lauded yellow cake with caramel icing. After I detailed this research headache with my aunt, she told me she'd recorded the recipe long ago to prevent just this kind of situation from happening. She copied it for me. The yellow cake layers were baked as usual, but then lightly soaked with the fresh coconut water, frosted with pillowy seven-minute icing, and covered in fresh grated coconut.
I tested the recipe to make sure the cake would come out perfectly for my family's Easter lunch and that it really was as good as my mom had said. Other than increasing the number of egg whites in the icing, I changed nothing, and it truly was a dream—supermoist from the coconut water-drenched layers and billowing with fluffy white icing. Its sweet, luscious flavor, enhanced by the fresh, crisp coconut, transcended more than half a century from my grandmother's kitchen to mine, allowing me the chance to identify with a loving woman through food better than I ever could through countless stories.