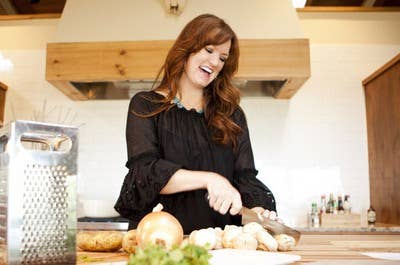 Culture
Coming Soon to Your TV: The Pioneer Woman
Last fall, Ree Drummond, author of the wildly popular blog The Pioneer Woman, went up against Bobby Flay in a Thanksgiving throwdown. Drummond won, but it looks like the ultimate prize is bigger than bragging rights — the Food Network announced yesterday that Drummond will be getting her own daytime series on the channel.
During the Scripps Network upfronts, a network presentation to media and advertisers held each season, Food Network president Brooke Johnson emphasized Drummond's biography, something straight out of a romance novel: a city girl about to move to Chicago, she met a handsome cowboy at a bar in Oklahoma, fell in love, and never left. She now lives on a ranch with said cowboy and her four children, who she homeschools. The Food Network was mum on the details of the show — we can safely assume it'll be about food, but beyond that, they're keeping the specifics close to their chest.
This show is just the latest step in Drummond's total media domination. Her site, which emphasizes simple recipes paired with saturated, close-up photos of each step, is one of the most popular personal blogs in the world. In 2009, she released a cookbook, which went to first position on the New York Times bestsellers list. Her memoir, The Pioneer Woman: Black Heels to Tractor Wheels — A Love Story came out in February and went to number two on the Times list (with a rumored movie in the works), and Charlie the Ranch Dog, a picture book about Drummond's basset hound, is slated for release on April 26. Given all this, a TV presence sounds like such a strong, safe move that the real question is why the Food Network hadn't bet on Ree's horse sooner.