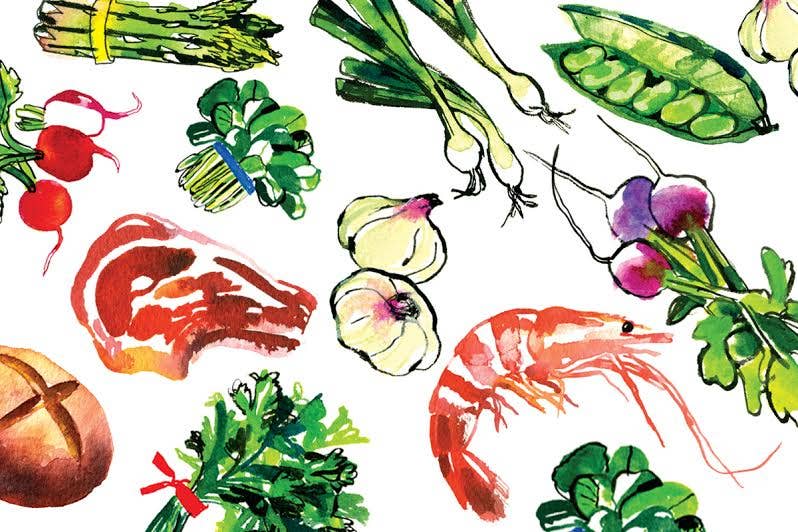 Food and fine art are no strangers; consider, for instance, Cezanne's still lifes of fruit or the Rabelaisian feasts depicted by British painter William Hogarth in his 18th-century engravings. Rarely, though, have the two come together in such an intensely personal way as in A Tale of 12 Kitchens by London-born artist and graphic designer Jake Tilson. At first glance, the tome seems like a colorful scrapbook—the type of journal that might be found in an art student's backpack. Then, as you explore further, it reveals itself to be a more complex affair: a photo book, a memoir, and a cookbook all rolled into one vibrant package.
Cataloguing the events of his nomadic life, Tilson has chosen to reminisce by way of the kitchen, specifically those in homes he's inhabited over the years in London, Tuscany, New York, Los Angeles, and Scotland, among other locales. The result is a free-form narrative, replete with philosophical musings, recipes, sketches, and recollections of meals past, that weaves through overlapping arrangements of photographs: appetizing shots of favorite dishes (from pancakes to roasted grouse), details of labels and food packaging (a flattened box of Thomas' english muffins, a jar of Gold's horseradish, a plastic tab used to crimp shut a bagged loaf of bread), and silhouetted pictures of unusual cooking implements (there's one of a trio of spurtles, rod-shaped stirring tools from Scotland), as well as rural and urban landscapes. Through this intermingling of words and images, Tilson examines the rituals and environments with which he's grown intimate over the years, whether it's cooking tortellini in brodo at his family's Tuscan farmhouse or making burritos in a hotel bathroom. The book's structure appears chaotic, but A Tale of 12 Kitchens ultimately establishes a graceful, calculated rhythm: each page is a vivid work of art unto itself.
The recipes, many of which are facsimiles of the actual stained, handwritten originals, are an idiosyncratic bunch. In one, Tilson describes his boiling a couple of ducks in Aberdeenshire, Scotland, eventually smothering them in "a deep bank of snow to cool rapidly". It's the first—and likely only—recipe readers will ever have seen that calls for worcestershire sauce and snow. Other dishes are far more makeable, such as a beet and sumac salad and a Polish hunter's stew of sauerkraut and sausages called bigos. Breezy, smart, and surprisingly unpretentious for such a personal undertaking, A Tale of 12 Kitchens is so rooted in Tilson's family lore that he likens the publishing of it to "the selling of the family silver". Still, I imagine that Tilson, who is 48, has plenty of memories yet to make.