Cool Canes
These sweets provide instant cheer.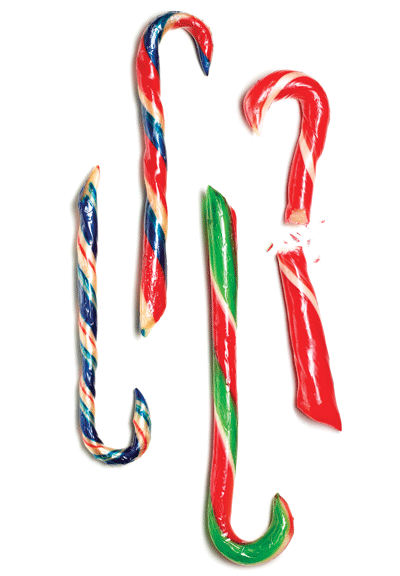 I could tell just by glancing at the candy canes from Zoe's Chocolate Company that they were a breed apart from the shrink-wrapped sticks sold by the millions during the holiday season. I'd heard that this small confectioner in Waynesboro, Pennsylvania, was one of the last in the country to make candy canes entirely by hand, and I'd decided to make the trip from my home in Washington, D.C., to try them for myself. There they were, a rainbow of pretty canes, all secured with a shiny ribbon. No two looked alike; each lustrous candy had contours and patterns that couldn't possibly have come from a machine. I bought a few of each kind: peppermint (in red, green, and white stripes), anise (blue, red, and white), and cinnamon (red and white).
On the way home, I opened up a peppermint one and popped it into my mouth. The flavor was bright and refreshing, cool on the tongue, and more refined than the cloyingly sweet taste of the canes I'd grown up eating. The real stars, though, were the anise and cinnamon versions. The latter had all the gentle warmth of the spice but none of the aggressive heat you get in most cinnamon hard candies, and the anise cane, which had a gorgeous sheen, tasted of real licorice. I finished the whole thing.
As its name suggests, Zoe's Chocolate Company makes primarily chocolates, and very good ones. But every year in the weeks leading up to Christmas, the owner, Zoe Tsoukatos, gets together with her parents and two brothers to make candy canes, observing a tradition begun two generations ago by Tsoukatos's great-aunt and great-uncle, immigrants from Greece. "When I was a little girl," she recalls, "I would wait all year for candy cane-making time. I loved it then, and I love it now."
Tsoukatos says that the method hasn't changed a bit. "We still use natural oils for the flavoring and knead the candy by hand." Each batch of the taffy-like candy base is pulled and stretched on a wall-mounted hook before the flavoring is added; then the colored pieces are twisted onto the white base. Zoe's mother, Elaini, oversees the job of bending each cane into the crook shape. "She has the magic touch," says Tsoukatos. A pack of six candy canes costs $16.50; www.zoeschocolate.com or call 717/387-5882