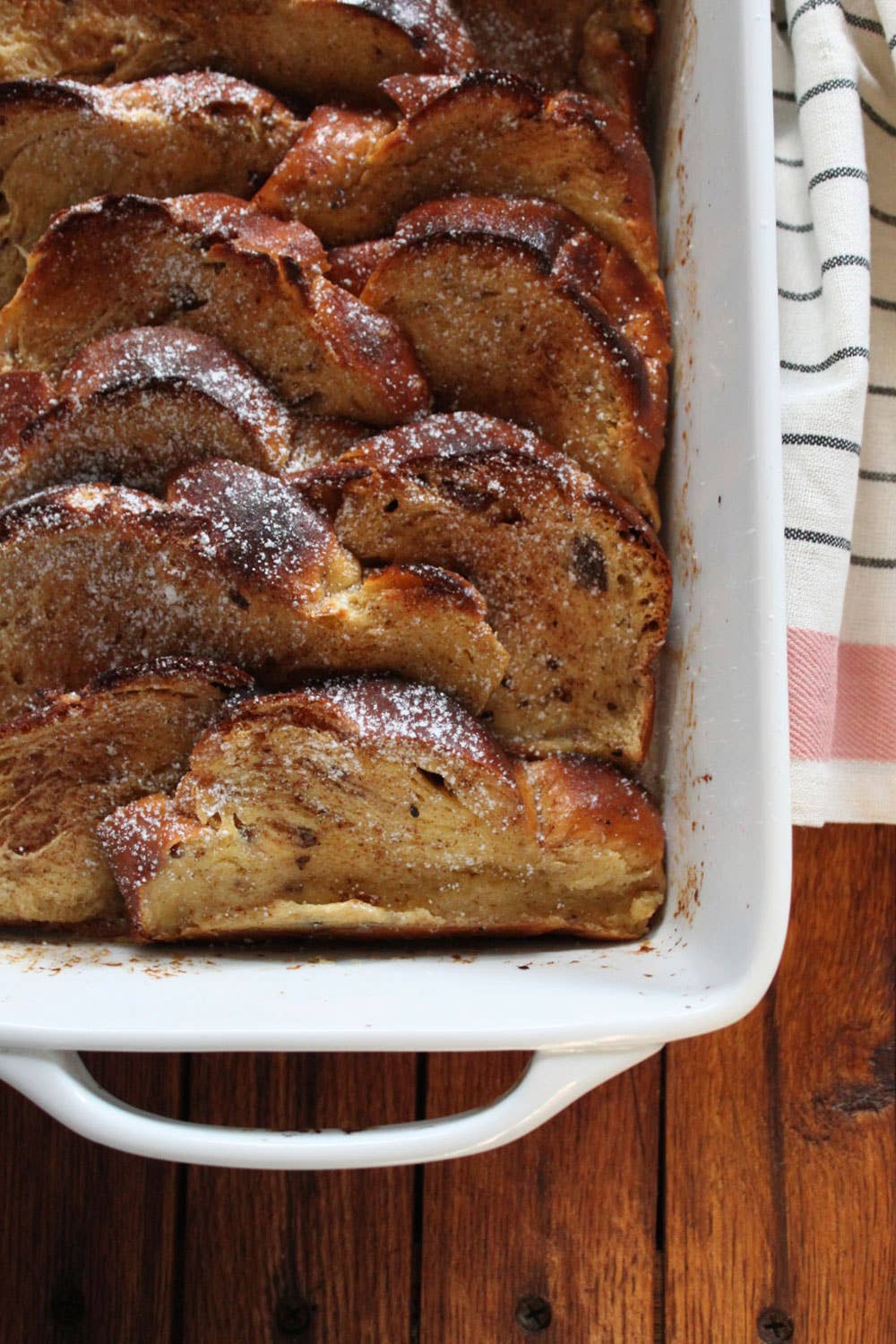 Culture
Coquito French Toast
Rich with coconut flavor and spiked with rum, coquito French toast makes the perfect Christmas brunch confection.
Since moving to New York City from Florida, I'd dutifully gone home every Christmas. Leaving the city at the height of its winter wonderland glitz only to return to months of spirit-free ice and snow, I couldn't shake the feeling that I was missing the good part. Last year, my family finally decided to reverse the trend and spend Christmas with me in New York. I invited the handful of friends who were staying behind and planned the Christmas Eve Noche Buena dinner of my dreams.
Just because I wasn't spending the holidays in Miami, I didn't intend to skimp on our traditional Cuban meal. I tracked down sour oranges on the Lower East Side to make the mojo marinade for the roast pork, lugged home pounds of yuca, and spent hours slowly simmering black beans. With a backlog of must-try Christmas cookies, I went overboard with dessert and endlessly fussed over a buche de Noel—a rookie mistake. I even decided to make coquito--a Puerto Rican-style eggnog made with freshly grated coconut blended with rum, sweetened with condensed milk, and spiced with cinnamon and anise. Having taken on too much, I was fighting a mild case of hostess hysteria when guests arrived. It may have been everyone pitching in, or my second glass of coquito, but things went smoothly enough that I felt I might get away with it after all.
Happy and relieved the next morning, I spotted a forgotten loaf of challah bread on the kitchen counter. I'd planned to soak it in custard overnight then pop it into the oven for an effortless Christmas Day brunch. Caught up in the rush, I never got around to it. It felt like I'd run a marathon only to wipe out at the finish line—but then I remembered the leftover coquito chilling in the refrigerator. It was rich, it was sweet, it was spiked. With just enough left to cover the sliced challah bread, I baked it off in under an hour. Crispy with well toasted edges and a creamy center, it was the simplest thing I'd done all week and a lesson in getting out of my own way.