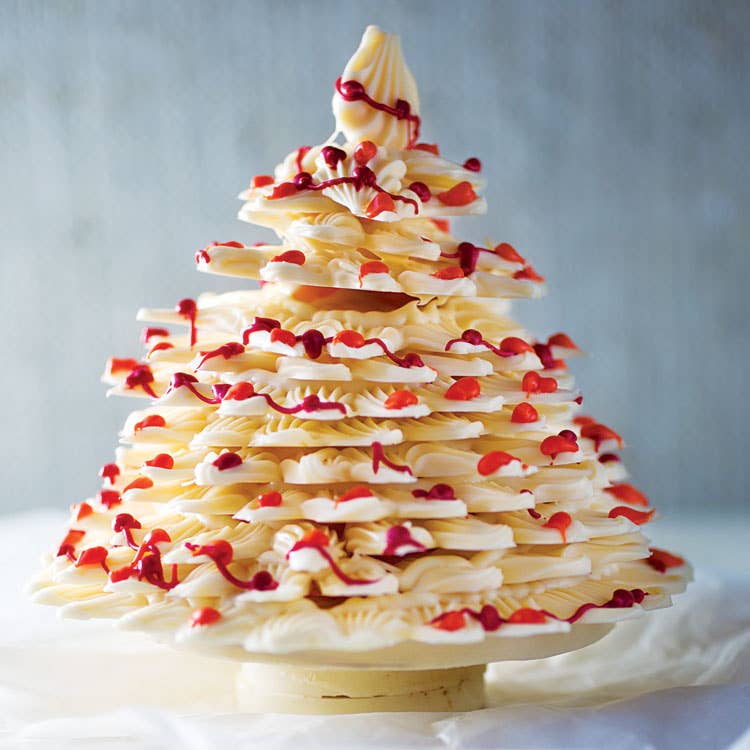 While working on this month's story about white chocolate ("Beyond the Pale,"), we called in more than 100 pounds of the buttery confection to make bread puddings, panna cottas, cookies, and mousse. Given its silky texture and the way its pale hue lends itself to decoration, we were excited to work with it—until we discovered that it's almost impossible to pipe through a pastry bag. That can be a problem if you're trying to cement a gingerbread house, or top that house off with a "snow"-covered roof. Unlike regular chocolate, which holds its shape after heating, white chocolate, with its high percentage of slippery cocoa butter, turns runny.
Hoping to find a way to pipe it, we paid a visit to Jacques Torres' chocolate factory in Manhattan. The key to decorating with white chocolate, Torres told us, is to sprinkle in water before pouring it from pan to pastry bag. So long as you're working with real white chocolate, with at least 20 percent cocoa butter, the water reacts with the fat molecules to "seize" the chocolate just enough so it remains, pliable, while holding its shape once applied.
To illustrate his point, Torres drew several circles of decreasing size on parchment paper, then piped his water-infused chocolate through a star-shaped tip around the circumference of each. As promised, the chocolate came out thick and textured, and stayed that way. Torres created a series of frilly, white rings that became the layers of "branches" for a sturdy white chocolate Christmas tree. So when it comes to working with white chocolate—just add water.