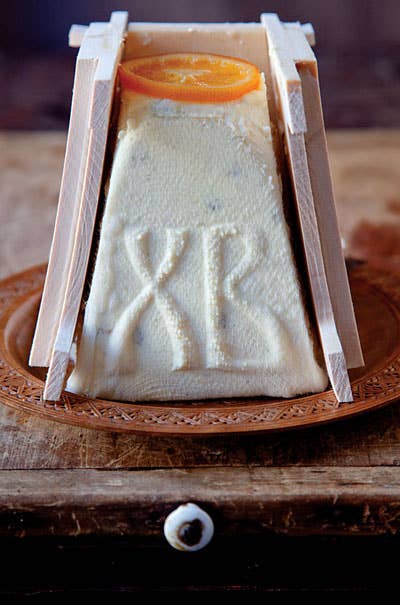 Culture
Easter Sweet
Russian paskha has universal appeal.
Paskha (see ** Russian-Style Farmers' Cheese**) is a rich, airy sweetened cheese that's traditionally served in Russian homes to break the meat- and dairy-free Lenten fast. It also happens to be the name for the Russian Orthodox Easter, which gives you an idea of how central the food is to that holiday. In my family, we wake up to a tantalizing tower of paskha cheese, which we decorate with slices of fresh strawberries, every Easter morning. Made with a Russian farmers' cheese called tvorog, as well as cream, egg yolks, butter, and sugar, the treat is flavored with vanilla and studded with golden raisins. Then the paskha is pressed into a mold and chilled to set. (There's also a custardy cooked version made with essentially the same ingredients, but that's not how my family eats it.) In Russia, the pasochnitsa—the traditional four-sided wooden or plastic mold, embossed with the Eastern Orthodox cross and the Cyrillic letters XB, which stand for "Christ is risen"—is meant to evoke Christ's tomb. Some people like to dress the sides of the molded cheese with patterns of dried fruits and nuts to form religious symbols.
How good is paskha? Consider the fact that my secular New England family isn't even Russian. Back when my sisters and I were little, our Aunty Ginny, my mother's sister, became enamored of a recipe she had discovered for the dish, and before long it was our most delicious holiday tradition.