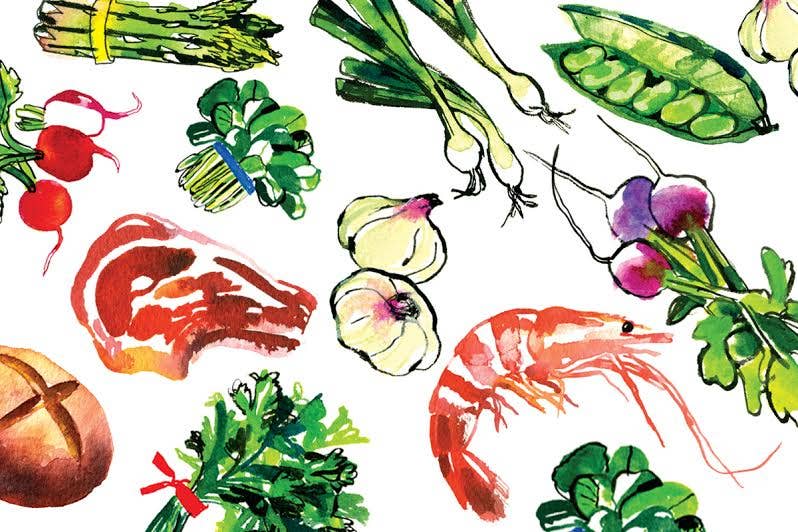 ''Don't panic, it's only dough," Carole Walter reassured her class between answering their constant questions and working a piece of pastry into a perfect circle. I was sitting in the back of King's supermarket in Short Hills, New Jersey—appropriately enough, on the eve of National Pie Day, which falls on January 23—where this veteran baker was giving her last class of the season. Walter has been teaching for 25 years and has seen plenty of panic in the kitchen. In her first book, Great Cakes _(Ballantine, 1991; soon to be reissued by Clarkson Potter), she set out to explain cake baking from start to finish, and ended up winning the James Beard Foundation's Best Baking and Desserts Cookbook Award. She begins her latest work, _Great Pies & Tarts, with the story of a student who left the classroom in tears because she couldn't roll out her overworked pate brisee. "Tales like this," she notes, "give some insight into why pies and tarts get such a bad rap." Having once been an anxious new student in Le Cordon Bleu's pastry program myself, I appreciate Walter's straightforward approach—and the fact that she's a teacher who knows how unanswered questions can lead to disaster, killing the enthusiasm that drew a student to baking in the first place.
The first two sections of Walter's book offer a crash course in baking pies and tarts. Part one thoroughly explains ingredients and pastry techniques and includes a glossary of fruits and berries, as well as a detailed catalogue of equipment. Part two, called "The Primer", spells out six key techniques: how to make meringue that doesn't weep, for instance. The clear step-by-step instructions and the easy-to-follow illustrations make this section a textbook counterpart of Walter's classes.
Nearly 150 recipes follow, beginning with 30 different pastries, doughs, and crusts. I started with the cheese-layered tart cherry pie in almond nut pastry, then moved on to the chocolate ripple ricotta tart. Next came pear tarts and chocolate pies. When my refrigerator threatened to overflow, I elicited the help of friends and served the perfect combination of chocolate pie in Walter's aptly named sinfully rich pecan pastry. One friend proclaimed it "outstanding". Then, when he saw that other choices were available, he suggested the toasted coconut pastry instead. With so many possibilities, creativity is irresistible. The chapter on cobblers, crisps, and crumbles enticed me to make a figless version—figs weren't yet in season—of Walter's strawberry fig cobbler with quilted biscuit topping.
Walter also offers frozen des-serts, a few lighter recipes, some savory items, and some sauces and garnishes. To reinforce important lessons, "before you begin" tips and instructional notes are found throughout the chapters. She also expands on difficult recipes, like her goof-proof puff pastry, to the point where there's little room left for catas-trophe. But if you're a diehard for old-fashioned methods, you may find the many recipes geared towards food processors frustrating. Walter makes an argument for crafting pastry by hand (a processor can form dough too quickly, leaving liquid unincorporated), but those methods, given in "The Primer", are not repeated in the recipes. Maybe the inconvenience of turning back to part two is Walter's way of persuading you to learn the technique. I was surprised to turn to a chocolate curls recipe that called for softening a block of chocolate in the microwave and shaving off pieces with a vegetable peeler—not the involved process I learned in cooking school, though I do have to admit that it works.
"I don't do elaborate decorations," Walter confessed that night in class. She doesn't use equipment or ingredients that aren't widely available either, and that seems to be the point. Walter accepts that most of us don't have instant success with a piping bag and she encourages us to use whatever technique will keep us in the kitchen. She replaces the mystery with information, so that her methods work. And that, ultimately, is very inspiring.