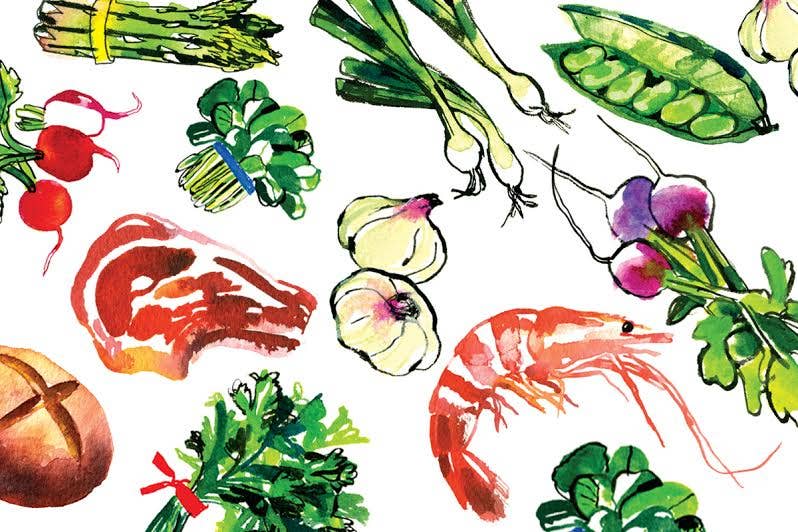 Culture
Edible Enemies
A culinary answer to an environmental scourge
It's low tide this spring day in Connecticut. Children hop along the shore, flipping rocks over, sending green crabs scurrying. Nearby, Bun Lai grabs the critters, dropping them into a bucket. Lai is the chef at Miya's Sushi in New Haven, Connecticut, one of a handful of sustainable sushi restaurants in the U.S. He's collecting these Asian shore crabs to serve atop sushi rolls. When deep-fried, the bite-size crustaceans crunch like potato chips. You'd never know that, in the wild, these tiny crabs are a huge problem.
A voracious eater of local mussels, the Asian shore crab was likely introduced into Atlantic waters when a ship released ballast water (seawater taken in to stabilize its weight during transit). Sometimes such water contains stowaway creatures, which may, like the shore crab, become invasive—when introduced into a new environment, they can cause ecological damage. Plants and animals like these, which hitch rides on ships' hulls, in ballast water, and in shipping crates, have a special place on Lai's menu.
Lai's mother, Yoshiko, started Miya's as a traditional Japanese eatery in 1982. Bun, whose father is Chinese, rose through the ranks to chef, then turned the menu on its head. "My cuisine is based in part on my Chinese heritage. In China, they eat many things that Americans don't consider edible," says Lai. "A lot of these 'non-foods' are also invasive."
Lai pickles Japanese knot-weed, an asparagus-flavored perennial that crowds out native plant species; Asian Pacific red algae, which compete with seaweeds native to the Sound, is seasoned and baked for chips. And he makes a roll wrapped in the vegetation-choking kudzu plant, a green-bean-flavored vine introduced here in the Japanese Pavilion during the 1876 Centennial Exposition in Philadelphia. He also cooks with moon snails, which destroy local clam populations. Grilled and served with lime juice, the snails taste like conch.
Miya's is at the forefront of an "invasivore" movement gaining traction nationwide. On Florida's Key Largo, lionfish, a reef fish-killing Indo-Pacific species with mild, tender flesh, is popular at the Fish House Encore Restaurant. Invasivore dinners staged by restaurants like Heaven City in Milwaukee have included lake-destroying Asian carp and seafloor-damaging cow nose rays. The Invasive Species Cookbook, by J.M. Franke (Bradford Street Press, 2006), offers recipes for nutria and starlings.
Bun Lai, for his part, seeks more foes to feast upon. He's working on a sashimi of African blue tilapia, a fish farm escapee that aggressively takes over habitats. Sea squirts are also in his sights.
"I want people to be aware that invasive species are environmental destructors, but they have food value," says the chef. "Putting them on my menu starts the conversation."