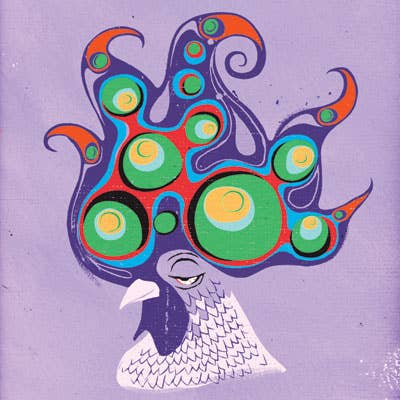 Culture
Edible Weed: Marijuana Chicken Curry
A home cook comes to terms with a secret family recipe
"What special chicken curry?" my cousin Rajesh feigned ignorance over e-mail from London. "Better ask my mom."
"We haven't made that in years," said Aunty Rachel, Rajesh's mother, over Skype from Kerala, India. She giggled. "My grandparents learned it from the tribe," she claimed, referring to the Muduvans, a forest-dwelling people who rely on psychoactive flora for food, medicine, and enlightenment.
Months later, with bits and pieces gleaned from family members, I assembled the secret recipe for ganja kozhi peralan, a chicken curry made with marijuana.
Why would my conservative family have such a recipe? In my parents' generation in Kerala, marijuana and opium were available through the ayurvedic pharmacist. During the Holi festival each March, Hindu neighbors made bhang, a beverage laced with cannabis flowers. I'd heard tell of the infamous curry dish, but I hadn't gotten to taste it before it fell from my family's favor. Now, living in California, a state shrouded in a medical marijuana haze, I'd grown curious about it. Perhaps the curry had done more than nourish. Perhaps it had entertained.
"It's not like that," Rajesh insisted. "It's used for flavor." As it turns out, he wasn't blowing smoke. The slightly skunky Cannabis sativa adds depth to dishes in various cultures. Mad' joun, a Moroccan confection, sometimes contains cannabis or hashish, and in Aceh, on Sumatra, locals add pot leaves to their noodles.
I called GroCal, a San Diego-based organic herb grower; I'd heard that an herbalist there had been breeding varieties with minimal amounts of THC (the kicker in marijuana). Though they were bred for medicinal rather than culinary purposes, some had a nutty aroma, while others smelled like blueberries. He recommended a mild, toasty sativa variety, which I picked up at a licensed pharmacy. When I added the fresh, purplish leaves to the curry's base, they let off a Grateful Dead-concert odor, but they harmonized with the sauteed onions, garlic, ginger, curry leaves, and coconut.
I assembled a few of Los Angeles's most mellow diners—all with legal prescriptions—and served them the gravy-coated chicken. Lips smacked, fingers were licked. Someone said, "It's got real depth, but it doesn't taste like pot." I wondered if I'd used enough. "It's like chicken that's been caught and cooked outside," another pal observed. It did have an earthy quality. I fished out a bit of leaf. It tasted like a cross between sage, mint, and oregano.
We waited long after dinner to let any effects pass. In the end, there was just enough oomph to relax the shoulders. Messages the next day confirmed that everyone had slept soundly.
Everyone except my uptight mother. She called at dawn: "Did you make that curry?"
"Yes!" I said. "Do you want to come over for leftovers?"