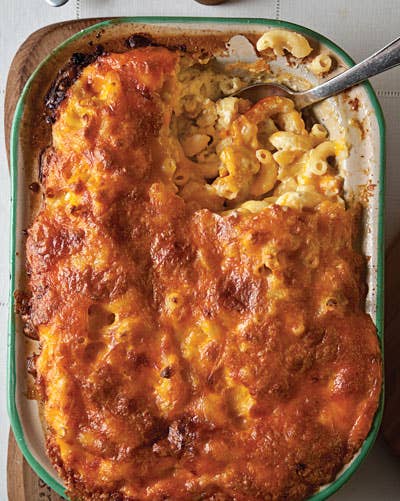 Culture
Elbow Room
Macaroni and cheese is a dish with hidden depths.
Did Norman Rockwell ever pay tribute to macaroni and cheese in one of his paintings? Maybe not. But it's easy to picture: Mom in an apron at the head of the dinner table, the rest of the family leaning eagerly toward the bubbling casserole of cheese-smothered noodles she's placing before them.
Of course, like many dishes we think of as all-American, macaroni and cheese actually isn't. Italians have been eating something like it for about as long as they've had pasta. Some historians, in fact, date the dish's debut in this country to 1789, when Thomas Jefferson returned from Europe with an Italian pasta machine in tow. There's also evidence that his French chef prepared it at the White House, though he wouldn't have used elbow macaroni, which didn't enter the picture until later; back then, macaroni could mean any kind of dried pasta. Anyway, there were probably other, even earlier points of entry for the dish. As far back as the 14th century, the English were tossing "macrows," as they called their noodles, with butter and grated cheese. Variations on that theme would have crossed the Atlantic again and again, with immigrants from England, France, Italy, and anyplace else where the irresistible combination of noodles and cheese had taken hold.
The macaroni and cheese that I grew up with, the version widely accepted as orthodox by the late 20th century—short, hollow noodles thoroughly soused in a cheese sauce thickened with starch or eggs—was generations in the making, and the dish still retains echoes of the different eras and places it has passed through. As such, more than one method of making the cheese sauce has evolved over the years. By 1817, when The Cook's Oracle was published in London, the book's author, William Kitchiner, was able to gripe offhandedly, in a recipe for "Macaroni," that the "usual mode of dressing it in this country is by adding a white sauce, and Parmesan or Cheshire cheese, and burning it." By "white sauce" he meant bechamel, that blend of milk or stock and flour-butter roux that's still a common macaroni and cheese binder. Around the same time, in the American South, the celebrated hostess Mary Randolph published The Virginia Housewife (1824), which included a recipe for macaroni and cheese that called for steaming the ingredients in a mold like an English pudding. More important, Mrs. Randolph didn't use a bechamel; she relied on a custard of eggs and cream to bind her cheese sauce.
The bechamel-versus-custard debate persists to this day, passionately in some quarters. In Simple Cooking (North Point Press, 1996), for example, the Massachusetts food writer John Thorne laments the "vexatious infatuation with white sauce, a noxious paste of flour-thickened milk." I happen to be a proponent of bechamel—it makes for a reliably smooth and stable cheese sauce—though I can also see the virtue in the silky texture an eggy custard provides. The other great debate, over whether to simply mix the sauce and macaroni in a pan on the stove or to take the extra step of finishing the assembled casserole in the oven, comes down to whether you prefer a loose and gooey macaroni and cheese or one with a toasty golden top.
Convenience and necessity have also driven the evolution of macaroni and cheese in the modern era. Since the late 19th century, canned evaporated milk has made a handy replacement for cream in many custard-based recipes, and the invention of quick-cook macaroni in 1912 and easy-melting Velveeta cheese in 1928 brought macaroni and cheese fully in line with the demands of the age, whether that meant feeding a family or an army. Then, in 1937, came the little blue box that would change the way Americans ate macaroni and cheese—and the way they ate, period. Kraft Dinner (later renamed Kraft Macaroni & Cheese), the prepackaged kit of powdered cheese and dehydrated pasta, is an artifact of the Depression, when "a meal for four in nine minutes for an everyday price of 19 cents" would have sounded pretty appealing. It was during those years that macaroni and cheese graduated from side dish to main course, and though cooks continued to make it from scratch, the packaged version has since become the formative mac and cheese experience for many Americans. My parents, who have vivid—maybe too vivid—memories of Depression-era meals, never served the Kraft version; they preferred the frozen macaroni and cheese introduced by Stouffer's in 1954.
Growing up, I loved Stouffer's plush version, with its crunchy baked top, but I was outright ecstatic on the days when my older sister would pick up a box of Kraft on the way home from school; I never tired of watching the transubstantiation of orange powder into luscious sauce on the stove top. At friends' houses, I discovered such exotic additions as hot dogs, tuna fish, broccoli, or cream of mushroom soup. There were the "healthy" versions made with whole wheat macaroni or margarine or low-fat cheese; the "gourmet" adaptations that replaced elbow macaroni with rotini, or Velveeta with Swiss raclette; and the dense squares I tried in the Caribbean, where the dish goes by the name macaroni pie.
Often my mom would forgo the Stouffer's and make her own mac and cheese, with sharp cheddar and a satisfying golden crust, and that's the one I usually aim to reproduce in my own kitchen. I begin by scalding some milk and letting a bay leaf steep in it while I cook the pasta to just shy of al dente, so that it can absorb some of the cheese sauce as it bakes later on. Then I make a roux, steadily whisking flour in butter until it turns a golden blond color—and no darker. (Too much browning, and the starch in the flour breaks down, making for a less stable sauce.) Then I whisk in the hot milk and grated cheese, stir in the pasta, pour it all into an ovenproof dish, and bake.
Once you've mastered the basics, you can expand the dish's horizons in all sort of ways. I mix a pinch of cayenne into the roux to let the spice bloom in the butter; nutmeg and paprika are other classic seasonings, and a little mustard or blue cheese will enhance the overall zing. A scattering of buttered bread crumbs or Japanese panko makes for a crisp topping. Starting with a base of caramelized onions or minced shallots—a la kase spatzle, the Mitteleuropean answer to macaroni and cheese—is an excellent way to build flavor. I discovered that sour cream contributes a tangy richness when I tried the recipe for custard-based macaroni and cheese in Edna Lewis and Scott Peacock's The Gift of Southern Cooking (Knopf, 2003), and I gained a new respect for Velveeta thanks to SAVEUR's executive food editor, Todd Coleman, who showed me that including it in a mix of cheeses can yield a super-velvety sauce. I've even experimented with macaroni and cheeses loaded with big-ticket ingredients like lobster and cognac. And anyone who opposes adding smoky ham or bacon can only be doing so on ethical or religious grounds.
Still, at its core, macaroni and cheese is about, well, macaroni and cheese, and my favorite versions are the ones that make the most of those two components. Think about how, in a good macaroni and cheese, the hollow elbows nestle together to form a beautiful, springy honeycomb structure. At Artisanal, a cheese-centric New York City brasserie, chef Terrance Brennan refines that already elegant design by replacing macaroni with penne rigate, which has a grooved surface that really holds the cheese sauce. "I also use four different cheeses," he says; "fontina for creaminess; Gruyere for its earthy flavor and hint of Alpine grasses; Comte for nuttiness; and Parmesan, in the topping, for that umami quality." But ask Lyra Petrie, the owner of Ginger Root, a Caribbean cafe near my Brooklyn apartment, and she'll tell you that a sharp cheddar is all you really need. "As long as you use a quality cheese, you can't go wrong," she assured me the last time I stopped in for a helping of her custardy, nutmeg-spiced macaroni pie. The best part is, they're both right.