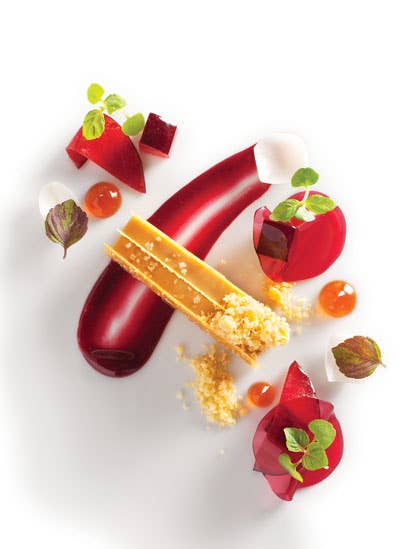 Culture
Edible Art at Eleven Madison Park
How one restaurant translates its craft for the home cook
We love Eleven Madison Park: The dining room, with its soaring windows and profusion of fresh flowers, is one of New York City's loveliest. The service is polished yet down to earth, and chef Daniel Humm's food is stunning, with a clarity of flavor that always makes us wonder how in the world he does it. So when we learned that he and general manager Will Guidara were writing the just published _Eleven Madison Park: The Cookbook (Little, Brown and Company), we were curious to see how they would interpret their kitchen's incredibly complex creations for home cooks like us. "One of the biggest challenges we faced was determining how to write the recipes," Guidara told us. "We wondered if people were actually going to cook from the book." The answer, they decided, was "yes-ish." They knew that more ambitious cooks would tackle recipes from start to finish, while others might execute just part of a recipe, swapping in simpler iterations of more complicated components. The authors were confident that both approaches would expand the home cook's notion of the way flavor can be coaxed from ingredients. And we have to agree. There are so many lessons that can be learned by simply scanning the recipes or studying the photos in the book: from the way a chef can use a single ingredient in multiple ways, to how a novel approach to something as elemental as roasting beets can transform a dish. Eager to learn more, we spoke to Humm about the inspiration for his dishes and asked him for some tips on how to adapt his creations for enthusiasts at home. —The Editors_
The visual aspect of a dish is so important; the shapes and colors and overall design have to strike the right mood and convey the right idea. The inspiration for this one came from my first visit to Japan, where I encountered umeboshi, these incredible salt-pickled plums. I instantly thought of foie gras; the tart and salty fruit would work so well with the liver's creamy richness. Plums are the last stone fruits of the season, and this dish is a celebration of them in all their forms: There's a smear of fresh plum puree, and dabs of dense plum wine gel, made by reducing plum wine and combining it with_ umeboshi_ vinegar, salt, and agar-agar. To add a luscious texture, there are soft rounds of gelee made from a plum consomme spiked with umeboshi vinegar. The gelee melts with the heat of your mouth because it's set with gelatin, which is easy to use: You soften sheets of it in cold water and add them to any liquid to set it. We also play off the plums by making a tuile and a crumble from bitter almonds, the inner seeds of the stone fruit, which have been processed to remove its toxins. It's important to use the whole fruit, pit and all. Minty shiso leaves and lily bulb petals echo the Japanese theme, and we serve marinated foie gras, not cooked, which works well with all these fresh ingredients. If you didn't want to make this entire dish, you could use a foie gras pate or a terrine and simply garnish it with one or more of these plum preparations.
There's something about this poached-lobster dish with fennel, orange, and persimmons that evokes holiday cooking to me. Though it's a wintry dish, it's still bright and light and you feel good after eating it, thanks to the citrus and the licoricelike flavors of the fennel. We use many expressions of fennel: blended with potato, it's an earthy, rich puree; the raw fronds add a fresh, green note; and the braised version gives it a luscious, home-cooked feel, something people can connect to—you need that in any dish. We also prepare some of the fennel by vacuum-sealing it with olive oil and salt in a Cryovac bag and compressing the contents to infuse it with flavor. But you can certainly skip it here and include some raw slivers instead. After cooking the lobster, we poach it in a sauce of white wine, orange juice, cream, and butter. Just like salt and sour and sweet, you always need a bit of heat in a dish, so we add the chile powder_ piment d'Espelette_ to the sauce. We enhance the lobster flavor with a bit of lobster-roe oil, which we make by mixing the roe with canola oil, as well as a powder that we create by dehydrating the roe, and then grinding it in a spice mill. But you could simply warm the roe and brush it over the lobster before serving.
We've probably done ten different takes on the beet and goat cheese salad over the years. See, we're not trying to reinvent the wheel. There's a reason why we work with these combinations over and over again—they're classic. But here we're trying to serve it in a way that lets the flavors shine through even more. We use lots of different varieties: red beets, which are the sweetest; yellow beets, which have a more savory flavor, almost like a parsnip; and pretty pink Chioggia beets. They're tossed with olive oil, salt, and sugar, then roasted with red wine vinegar under foil so that the seasonings penetrate the skin. The vinaigrette is made with beet juice; we prefer it when the ingredients in a dish taste like what they are, when the flavors are more focused. We make an airy goat cheese mousse for textural contrast, but you definitely could just dollop some fresh, sof goat cheese on the plate. The garnish of caraway tuiles, a rye crumble, and fresh dill blossoms was inspired by the flavors of New York delis, which work so well with the beets and tangy cheese. And we season the dish with fleur de sel because it has that great crunch and lends a beautiful burst of flavor but it's not too salty. It's the sweet beets you taste, not the salt.