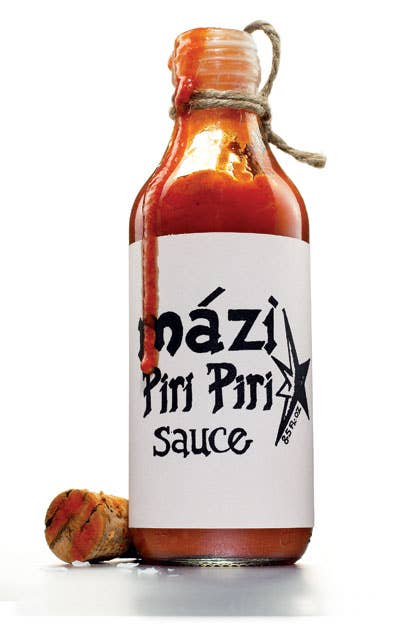 Travel
Feel The Burn: Mázi Piri Piri Hot Sauce
This piri-piri sauce delivers serious heat.
I am a hot sauce fanatic, but I've never been lured by condiments that treat capsaicin-loading as a competitive sport. A dose should impart flavor that blooms on the palate as it smolders; it shouldn't just explode in your mouth. That's why I love Mazi's piri-piri sauce, named for an extremely hot pepper with a citrusy kick. This Portuguese-style, oil-based chile sauce has a balance of brine and heat, more unctuous than the vinegar-based Tabasco, yet less pulpy than sriracha. I use it as a marinade for chicken, dab it on fried eggs, and splash some on rice and beans. It adds a slow, bright burn without elbowing other flavors out of the way. I'd sip it by the spoonful if I could handle the sting.
This piquant elixir comes from an unlikely source. Peter Mantas, a former manager for Jon Bon Jovi, cofounder of the Asbury Music Awards, and longtime fixture of the New Jersey music and nightlife scene, and his life partner, Leslie Feingold, have been crafting batches of piri-piri sauce for the past 11 years. The condiment originated in the Portuguese colonies of Africa; Mantas first fell in love with it in Portugal, where he worked as a cook in the '90s. "It's like ketchup is in the States," he says. "You're going to find it everywhere, and every one is a little bit different." Mantas surveyed Portuguese cooks on how to make the sauce: Oil, garlic, and piri-piri pepper were all constant ingredients, but then the recipes diverged—some called for vinegar, lemon juice, or whiskey, the latter of which Mantas found he preferred for its smoky effect. Mantas makes his own using local hardneck garlic and piri-piris he grows himself and sun-dries. What makes this piri-piri stand out is the unconventional use of tomato sauce as a base, which adds a lush thickness and a fruity tang. He purees the elements and stirs each batch constantly to emulsify the oil, which gives the mixture a luxurious, creamy mouth-feel. Once the sauce has cooled, Mantas ages it in whiskey barrels for one week to intensify the oaky flavor.
New Jerseyites first sampled the sauce in 2001, when Mantas and Feingold opened a restaurant in Bradley Beach called Mazi. Mantas put frango com piri-piri, or Portuguese grilled chicken with piri-piri sauce, on the menu and placed a bottle of the condiment on every table. Soon, customers were asking to take the sauce home. Though the restaurant has since closed, Mazi's piri-piri sauce lives on in the kitchen of Asbury Park's Langosta Lounge. There, Mantas works as an entertainment director and maitre d', Feingold as a baker, and the two continue to churn out the sauce. While piri-piri is beloved in Africa and Portugal, it's less known in the U.S. And that's okay with Mantas. "Until Heinz calls and says they want to give me their chili sauce—making equipment, we're staying little, artisanal, and handmade, producing plenty of sauce." A bottle of Mazi's piri-piri sauce costs $9.99 at sicklesmarket.com.