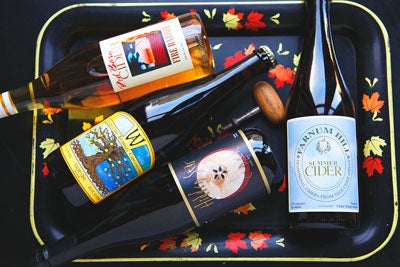 During Prohibition, the practice of making hard cider—a drink with roughly the same alcohol content as beer and once the most common beverage in America—came screeching to a halt. Happily, the last decade has brought a renewed appreciation for the heirloom apples used to make the drink (see "Forgotten Fruits"), and cider makers are once again brewing a range of hard ciders, from aromatic champagne-style ciders modeled after European versions of the drink to dessert-like ciders that perfectly balance sweetness and acidity. As Ben Watson writes in his excellent primer on the subject, Cider: Hard and Sweet (The Countryman Press, 1999), hard cider is a uniquely accessible drink, "ridiculously easy" to make at home, and perhaps even more American than apple pie. Whether you're pairing it with tangy cheddar or just sipping a glass, we can't think of a drink that better captures the flavors of autumn while offering a toast to the past; here are some of our favorites.
Albemarle Cider Works, of North Garden, Virginia, uses little-known heirloom American apples for its ciders. Jupiter's Legacy ($18), a blend of Harrison, Yates Hyslop, Virginia Crab, and dessert apples, is complex, flavorful, and just a little bit citrusy.
AeppelTreow Winery, of Burlington, Wisconsin, makes a semidry French-inspired cider called Appely Doux ($15). It's brisk and sharp, with floral, chrysanthemum-like notes.
Bellweather Hard Cider, in Trumansburg, New York, makes a range of ciders. Its Heritage cider ($11.95), a non-sparkling drink made from traditional English and French apple varieties, has an intoxicating aroma and a blisteringly bitter, dry flavor. Spyglass ($10.95), another still cider, tastes like a dry chardonnay; Golden Russet ($13.95), a single-variety cider, has a ripe apple scent and a sharp flavor.

Eve's Cidery, in Ithaca, New York, makes the pleasantly crisp Bittersweet ($12), a bottle-fermented sparkling cider, and Essence ($22), a full-bodied ice cider (made from late-harvest apple juice that is concentrated through freezing) with a honeyed aroma.
Farnum Hill Ciders, of Lebanon, New Hampshire, turns out dry, snappy, sparkling, and still ciders. Its Summer Cider ($7.50) is a standout; it's subtle and refreshing, with a sweet apple aroma and a tannic finish.

Foggy Ridge Cider, of Dugspur, Virginia, cultivates more than 30 varieties of ugly and inedible cider apples, which are blended to yield beautifully balanced sparkling ciders. First Fruit ($15), made with early-season heirloom apples, is full-bodied and lingers on the palate; Serious Cider ($15) is slightly herbaceous and pairs well with cheese; and the riesling-like Sweet Stayman ($15) is sweet but complex.
Red Barn Cider, of Mount Vernon, Washington, makes single-variety Jonagold Skagit Valley ($11), characterized by a hint of tart sweetness owing to juice added back to the fermented cider at bottling time. Its Fire Barrel ($11) takes on smoky notes from aging in charred bourbon barrels.
Slyboro Cider House, of Granville, New York, ferments frozen cider to make its excellent Ice Harvest Cider Reserve ($24), a syrupy-sweet drink with a zesty aftertaste. The juicy Hidden Star ($11.99), made from a blend of Northern Spy and Liberty apples, is another popular choice.
Wandering Aengus Ciderworks, of Salem, Oregon, specializes in balanced ciders like the Heirloom Blend ($10), an effervescent, full-bodied cider that smells like a fresh Gala apple and tastes like tart apple pie. The semidry Wanderlust ($10) is redolent of fruit but has a pleasantly tannic edge, and the Dry Cider ($13), fermented and aged in white oak, has the lip-puckering bite of a crab apple and a crisp, clean finish.
West County Cider, of Colrain, Massachusetts, excels at single-variety ciders like the copper-colored Redfield ($10-$14), which has a nose of apple leather and hints of citrus flavor.