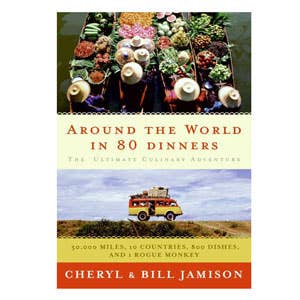 Culture
Food Miles
Cookbook authors Cheryl and Bill Jamison discuss their round-the-world tour in search of some of the planet's best meals.
In 2005 authors Cheryl and Bill Jamison left their home in Santa Fe, New Mexico, and embarked on a three-month-long, globe-spanning hunt for fantastic food. Along the way they visited vineyards in Stellenbosch, South Africa, sampled spicy street food in Singapore, and feasted on an elaborate Chinese banquet in Hong Kong. Now the couple have written a culinary travelogue, Around the World in 80 Dinners, which chronicles their journey by means of intimate stories and recipes. Though the subject may seem like a departure for the Jamisons (whose James Beard Award-winning cookbooks, including the BBQ bible Smoke & Spice, focus on American cuisine), it reflects their boundless curiosity in dogged pursuit of local dishes. Recently SAVEUR caught up with them for a conversation about eating insects, edible souvenirs, and the joys of food-focused travel.
**You're clearly adventuresome eaters. Have you always been so open to new tastes?
**
We've had lots of formative food experiences, but we both went off to Europe like in college, and that was a real eye-opening journey. Neither of us is specifically into the notion of eating "weird" food, but that first trip got us both thinking about what else was out there in other parts of the world. Since then we've done a lot of international travel, together and separately, and we're always looking for what's local, authentic, and delicious. When someone offers us something they consider wonderful, even if it is bamboo worms or sweet-and-sour fried crickets, we accept it.
**What do sweet-and-sour fried crickets taste like?
**Actually, the sweet-and-sour sauce gives the predominant flavor. Crickets were one of the odder things we had on the trip, but when someone offers something to you, you must try it. On an earlier trip to the Caribbean island of Grenada we were fed monkey brains.
**Do you think that by focusing your travels on food you were able to see a side of the countries you visited that most tourists miss?
**
Definitely. In Bali we even ended up being invited to our cabdriver's home for dinner.** **If we hadn't started talking with him about food and where to find a good smoked duck, that opportunity would never have come up. He just said, "Oh, you should come have it at my house." And that was an extraordinary way to see something local. We've found that food offers a way into a city's living culture that can be difficult to experience otherwise.
**But with the exception of that night in Bali, you did a lot of your eating in restaurants or at food stands on the street. Do you think it's possible for an outsider to have an authentic food experience without going into someone's home?
**
It varies from place to place. A lot of places are proud of their local home-cooking tradition and really want to show it off to visitors. Other places are not. When we went to the south of India, to the Kerala region, we were bowled over by everyone's generosity. Because not all visitors are as responsive to their culinary traditions, people were excited by our enthusiasm. These weren't people who knew we were writing a book or anything. They just knew we were fascinated with the food and were eating it and were excited. They went out of their way to give us things. That was wonderful.
**What are your strategies for sniffing out good restaurants?
**
We tend to dismiss the places that are the newest thing on the block. And obviously, you don't want a restaurant with tour buses in the parking lot. Otherwise, we just keep an eye on where local people seem to be gravitating. We've also found that if you do ask people for help, like the hotel concierge or a clerk in a shop, you have to make sure they understand that you're looking for something seriously local and good. Often people will just send you to the fanciest place in town because they think the food won't offend your tastes.
**You visited ten countries in three months. By the time your journey ended, had you drawn any conclusions or noticed any global trends?
**
We did see more evidence, in countries like Australia and South Africa in particular, of chefs' really educating the public about food and making an effort to showcase ingredients, like lardo and different types of offal, that most people shy away from but can be really enjoyable to eat. In China, in Provence, and even to some degree in Salvador, Brazil, we also felt as if we'd encountered cooks who were mindfully honoring the culinary tradition of their country but were taking it to a new level and doing it in a fresher way.
**Each chapter of Around the World in 80 Dinners includes a recipe from a place you visited. How did you choose and develop them?
**
It was a combination of talking to people there on the scene and then coming home and researching everything about those dishes that we could find in print. Then we experimented a lot by ourselves until arrived at a version that we felt really demonstrated what was the best about the dish.
**Is there any chance you might turn more of your discoveries from the trip into a larger cookbook?
**
All the things we discovered couldn't fit in a book.