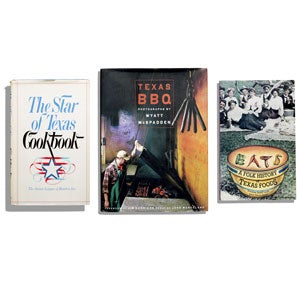 Texas Monthly On Food (University of Texas Press, 2008) The writers of Texas Monthly magazine know Texas food, and they know how best to sniff out great stories—as this anthology proves.
The Tex-Mex Cookbook (Broadway Books, 2004) From turn-of-the century street food to the origin of tamale pie, this entertaining book traces the cross-cultural roots of Tex-Mex cooking.
A Bowl Of Red (Doubleday & Company, 1972) Chili history, chili legends, chili poetry, chili cook-offs, chili recipes, and more—it's all in Frank Tolbert's quirky but authoritative history.
The Star Of Texas Cookbook (Doubleday, 1983) Compiled by the Junior League of Houston, this volume gives a glimpse into the cocktail- and canapes-filled world of Texas-style entertaining.
Texas BBQ (University of Texas Press, 2009) A stunning photographic tribute to the meat markets, smokehouses, and pit masters that make up Texas's Barbecue Nation.
Eats: A Folk History Of Texas Foods (Texas Christian University Press, 1989) Chapter one is titled "Tell Me What You Eat and I'll Tell You Where You Live". That aptly sums up this edifying read.
Cooking Texas Style (University of Texas Press, 1983) A cover-all-the-bases primer on Texas cooking with 300-plus recipes for everything from fried chicken to peach cobbler.
Dishes From The Wild Horse Desert (Wiley, 2006) A loving portrait of the cooking traditions of South Texas and northern Mexico, including such marvels as fajitas and carne guisada.
Texas Home Cooking (The Harvard Common Press, 1993) This friendly, endlessly useful cookbook by Cheryl and (Texas native) Bill Jamison is packed with 400 down-home recipes.